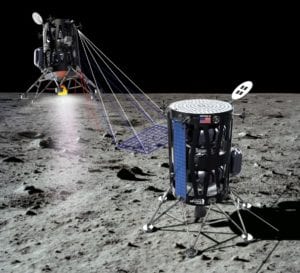 AAC Clyde Space has been selected to supply batteries to the Nova-C lunar lander mission led by the U.S. company Intuitive Machines. The agreement, announced on 27 February 2020, broadens the scope of its original order from power systems to also include batteries that will enable Intuitive Machines to optimize the mission's power generation and storage in the most cost-efficient way. The value of the extension is approximately 7.0 MSEK (USD$ 730,000).
AAC Clyde Space will deliver engineering services, engineering model and flight model battery systems to support launch in 2021. The Swedish-Scottish company has previously been contracted to supply the mission its most powerful and cost-efficient power system for advanced space mission, the Starbuck Mini power system.
"The extension of our engagement in the Intuitive Machine's lunar landing mission clearly illustrates the advanced capabilities of standardized New Space equipment," said AAC Clyde Space CEO Luis Gomes. "We are very proud to contribute high-performance equipment with proven flight heritage to this new era in lunar exploration."
In 2019, NASA awarded Intuitive Machines the first mission task order under the Commercial Lunar Payload Services (CLPS) contract for a robotic landing on the Moon as part of its new era of lunar exploration. The Nova-C mission is Intuitive Machines' effort to develop a commercial Lunar Payload and Data Service (LPDS) which provides transit to lunar orbit, payload delivery to the lunar surface, and data communications and power services to assets both in lunar orbit and on the lunar surface. It is planned to launch from a Falcon 9 rocket for its first robotic landing on the Moon in the second half of 2021. On its maiden mission, Nova-C will carry 5 NASA CLPS payloads to the lunar surface and transmit scientific data back to Earth during 13.5 days of activity on the moon.