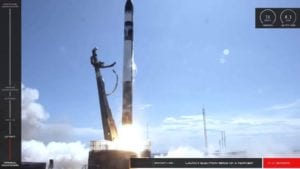 Rocket Lab, the commercial small satellite launch company, successfully launched a small classified payload into low-Earth orbit (LEO) for the U.S. National Reconnaissance Office (NRO) from Rocket Lab's Launch Complex 1 in New Zealand on 31 January 2020.
The launch mission, called 'Birds of a Feather', lifted off from the Mahia Peninsula in New Zealand at 02:56 UTC (15:56 local time) on 31 January 2020 carrying NRO payload NROL-151. The launch is the eleventh successful mission in a row by Rocket Lab, and the company's first launch in 2020.
The NRO competitively awarded the contract to Rocket Lab under the Rapid Acquisition of a Small Rocket (RASR) contract vehicle. RASR allows the NRO to explore new launch opportunities that can provide a streamlined, commercial approach for getting small satellites into space.
"Thank you to the entire team who helped make our first dedicated launch from New Zealand a success," said U.S. Air Force Col. Chad Davis, director of the NRO Office of Space Launch. "We especially thank the men and women of both Rocket Lab and the New Zealand Space Agency for their focus and hard work helping us achieve another successful mission for the NRO. We look forward to our continued collaboration."
"It's an honor to be flying this mission for the NRO," Max Munsey of Rocket lab said during a webcast after the launch. "The data collected by the NRO is used to support a variety of military and civil operations such as keeping U.S. and allied forces out of harm's way, as well as supporting civil agencies to asses devastation caused by natural disasters such as hurricanes and wildfires and to assist with the associated relief efforts."
Rocket Lab eventually intends to return its first stage boosters to Earth in order to be reused in future launches. While the first stage booster used for the 'Birds of a Feather' mission was not returned to Earth for reuse (it splashed down in the Pacific Ocean), the launch was used to gather important data for future attempts at returning boosters in a manner that they can be subsequently reused for future launches.