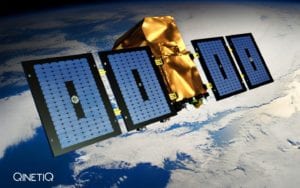 QinetiQ's space business has confirmed it has secured a major new contract with the European Space Agency (ESA) to extend Europe's capabilities in operational Earth Observation. The new €75m contract will see the company develop and assemble the ALTIUS satellite at its new state-of-the-art cleanroom facilities in Kruibeke, in Belgium.
The Atmospheric Limb Tracker for Investigation of the Upcoming Stratosphere (ALTIUS) is a satellite mission that will monitor and map the distribution and evolution of stratospheric ozone at a very high vertical resolution. Due for launch from French Guiana by the end of 2023, the satellite will use advanced spectral imaging technologies to monitor the Earth's atmospheric limb in the Near Ultraviolet, Visible, and Near Infrared spectral regions. ALTIUS is comprised under the ESA Earth Watch Programme, with the objective of developing new scientific Earth Observation satellite missions and data exploitation schemes to advance science and knowledge of the planet.
The ALTIUS satellite will be built on QinetiQ's versatile P200 platform, the latest generation of the highly successful PROBA platform. It has demonstrated excellent performance on previous space missions and accumulated more than 35 years in orbit. The new satellite will also feature QinetiQ's ADPMS-3 avionics, two deployable solar wings and a propulsion system that will allow for orbit maintenance and will deorbit at the end of its life. The mission lifetime is envisaged to be of minimum three years.
"We're delighted to be playing such a key role on this important programme," says Jim Graham, Managing Director of QinetiQ's space business. "Detailed monitoring of stratospheric ozone is vital and will support both broader operational services as well as long-term trend monitoring and scientific understanding of our atmosphere to help address serious concerns about the Earth's protective ozone layer. By also measuring greenhouse gasses, it will help to produce definitive atmospheric models to support more informed decision-making."
"Securing this significant contract is a great way to start an exciting new decade for space exploration and observation, and reflects our capabilities and experience as a prime – managing a consortium of companies from Belgium, Canada, Luxembourg, and Romania – and reliable systems integrator for delivering effective end-to-end mission solutions."
From ground-breaking initiatives in Solar Electronic Propulsion Systems and the successful development of the PROBA satellite to pioneering programmes in the design and delivery of advanced satellite technologies, QinetiQ has grown to become one of Europe's leading space system integrators. Working with Governments, space agencies, prime contractors and SMEs, QinetiQ's experience in the space sector spans over half a century. There are more than 250 engineers and specialist technicians in the company's Space Division, which has been involved directly in over 100 space missions.