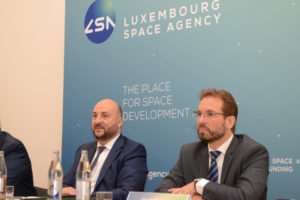 The architect and political force behind Luxembourg's burgeoning space scene, Deputy Prime Minister Étienne Schneider, has announced his intention to step down from his government position effective 4 February 2020, according to reports in the Luxembourg press.
Schneider has exerted an outsized influence in establishing Luxembourg not only as a hub for the New Space and space resources industry in Europe, but also as a hub for companies and organisations in the industry from all over the world. Schneider is also credited with providing the Luxembourg government the political courage to establish cutting edge and farsighted policies and organisations to further the New Space scene in Europe, as well as take the global lead in providing a policy and legal framework for the nascent space resources industry.
According to press reports in Luxembourg, Schneider had hinted that he was considering stepping down from his role as Luxembourg's Deputy Prime Minister some weeks ago, but was pressured to clarify his position by fellow politicians in the past few days and made his formal announcement to step down on 23 December 2019.
Schneider had long advocated that senior Luxembourg ministers should serve no more than two terms (eight years) in top positions, and has told reporters that the reason behind his decision to step down is because he wants to have his "life back" after many years of public service. Schneider has made clear that he intends to take a sabbatical and spend time with his husband before considering the next stage in his career. Schneider made clear that he does not intend to take up any of the numerous job offers he has reportedly received over the past few weeks, despite speculation to the contrary.