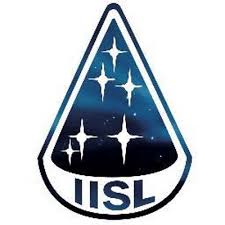 The International Institute of Space Law (IISL) is the global association for space law with individual and institutional members from almost 50 countries. The IISL's key mission is the promotion of further development of space law and expansion of the rule of law in the exploration and use of outer space for peaceful purposes. SpaceWatch.Global's Torsten Kriening took the opportunity to speak with Prof. Dr. Kai-Uwe Schrogl, President of the International Institute for Space Law (IISL), to discover more about the current challenges in space traffic management.
Can we start with gaining your perspective and your vision on space traffic management as well as space traffic management providers? Where do we stand?
Space Traffic Management (STM) is a rather new concept. Indeed, it is not completely new when you look at the very first and preliminary ideas on space traffic management referring back to the early 2000s. We undertook a study in the International Academy of Astronautics, a sister organization of IISL. For the first time the concept of space traffic management was addressed there in a comprehensive form. Meanwhile, space traffic management has gained momentum and deals with the question of how to manage safe operations not just in orbit, but also the issue of transport into orbit and the associated return to Earth free from physical or radio frequency interference. That's the concept of space traffic management by our definition.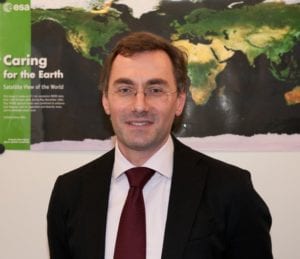 It is completely new when we look at it from a regulatory perspective. Space law has so far been characterised by the question of what is the status of outer space. And what is the status of the actors in outer space? Space traffic management is now a completely different approach that asks how the behavior of actors in outer space should be regulated. We are entering an entirely new challenge in terms of regulation for outer space and the technical and operational issues around space activities.
There is an increasing number of countries, governments, private operators, and other participants in space activities that understand that this is the major challenge of today and of the future and that they should all work jointly on this issue.
Now, when conceptualising this, what are the threats we must try to solve with space traffic management?
We are facing the space debris threat. On the one hand, technical experts expect more accidents and dangerous approaches in space. While we have already seen quite a lot of space debris hitting operational satellites, only two times operational satellites have hit each other so far. However, this risk will increase, even without unleashing the Kessler syndrome. Nevertheless, we will face more and more situations. We have to find ways and means to avoid such conditions. This means, first of all, those who can manoeuvre will have to apply traffic rules first. But they need better information about what is going on in outer space, which forms basic situational awareness. The enormous increase in the number of satellites, so-called mega constellations, is another story as is the growing number of mini-satellites.
Including CubeSats?
Yes, we will see hundreds and possibly thousands of such satellites build by universities and private entities. But that is only part of the story. Other space activities are also increasing such as human-related space tourism and space objects which can manoeuvre in outer space. For them, we have to define how to behave in outer space. This is about basic traffic management.
You mentioned access to space. Currently launch capacities in the various countries are regulated by national administrations, in the US the FAA, for instance. What does it mean for the future for space traffic management?
The first point for space traffic management is to gain the knowledge about what is going on in outer space, which is basically national awareness. And we have to concede that currently only the US has the full picture of what is going on in outer space through its network of stations. They are quite generous in passing on information, but the data are naturally not complete.
Other entities have started to slowly build up a knowledge base – not only governments and militaries, but also private actors and operators. So, we are on a path to access improved information. In addition, there are a lot of providers submitting conjunction analyses which forms a basis for regulating activities in outer space. The top priority is to obtain knowledge about what is going on and this must be accompanied by information related to notifications of manoeuvres and pre-launch notifications of satellite launches which are elements that are not yet the subject of regulation. On international level we do not even have pre-launch notifications, just post-launch registration. However, we all need the full picture of what is going on and what is planned in outer space. Therefore, the very first thing will be to have a harmonised and globalised way of sharing information, which is necessary to set up a satisfactory space traffic management.
Where do we stand in this process on global level, in Europe, in Germany?
We already have an agenda item in the Legal Subcommittee of the United Nations Committee on the Peaceful Uses of Outer Space. It was established at my time when I chaired the Legal Subcommittee. So I'm glad that I was able to bring that to live on the international governmental agenda. This offers a global forum where an exchange on practices can be executed, but, in future, drafting regulations on global standards may follow.
How could such regulations look like?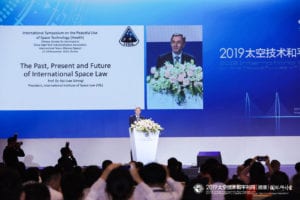 We should note that there are two possible approaches to space traffic management. One is the bottom-up approach, identifying a number of specific areas that constitute best practices like collision avoidance rules etc. The other approach is the top down approach, where a complete new set of coherent and comprehensive regulations is to be developed.  In a follow-up study to our IAA 2006 report, we presented in 2018 ideas which encourage the examination of existing International Air Law and International Telecommunications Law, which could serve as an example for setting up a regulatory architecture for space traffic management.
On the other hand, it can also be efficient to work bottom-up, capturing what is available in various areas as quick as possible. The disadvantage, however, is that it might not be as coherent as a top down approach. So, we are now looking at the merits of the various approaches in order to identify best way forward. We should not underestimate diplomatic efforts. The US have a fairly clear view on what space traffic management could be or should be, based on a policy directive from their Space Council. In other countries only conceptual ideas exist and I can already confirm that Europe is also interested in that field and the German EU Council Presidency will to initiate debates and develop European positions for space traffic management in 2020.
Let's do a jump here from space traffic management to the UN Sustainable Development Goals and space traffic management. How does that fit together? How does space traffic management serve the Sustainable Development Goals?
Space traffic management does not directly refer to the SDGs. It is, however, an element for maintaining sustainability in outer space. That means space traffic management shall ensure use of Outer Space also for future generations.
But if we don't sustain outer space as it is today it has an impact on life on civilisation on Earth?
Yes, in the end you can relate everything to the 17 Sustainable Development Goals. But it's more difficult to apply them to outer space. This is also why the term sustainability has been used for Outer Space activities in a different way. After over 10 years of discussion, the UN has reached a consensus on adapting 21 long-term sustainability goals.
Such sustainability goals for outer space cannot be simply be transformed one by one. They carry issues of broader sense such as the breakdown of space infrastructures and its consequences for civilisation and life on Earth. If we do not have this kind of sustainability in use of the orbits then we run into trouble. We have to find the respective rules and guidelines in order to maintain this freedom of orderly use of outer space for all applications, all users and unhindered by physical or radio frequency interference.
What is your guess on how long this process of establishing an effective outer space traffic management framework will take? Do we have enough time?
We still have some time. We are not in the situation where the threat of unmanageable outer space traffic is extremely high. It will however considerable rise at the time when we see two or three mega constellations in operation. This means we need progress in various elements of space traffic management. For this, we should follow the bottom up approach and develop a continuous process of shaping the available building blocks.
But at a certain point in time, we will also need to look to space traffic management from the top down. A very similar project was the preparation of the Law of the Sea, where we also had a decade-long negotiation resulting in the United Nations Law of the Sea. A new Outer Space Law architecture with its inherent space traffic management component may be developed through a similar process. This could also take a decade of intense diplomatic negotiation, which would then lead us to the 2030s.
---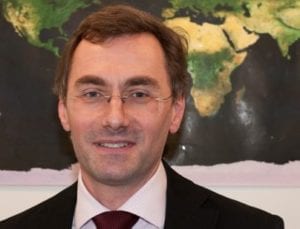 Bio: Prof. Dr. Kai-Uwe Schrogl is the President of the International Institute of Space Law (IISL), the international association of space lawyers from almost 50 countries. From 2014 to 2016, he was the Chairman of the Legal Subcommittee of the United Nations Committee on the Peaceful Uses of Outer Space (UNCOPUOS), the global intergovernmental body for space law making. Currently he supports the German Ministry for Economic Affairs and Energy in the Preparation of the German EU Council Presidency 2020, prior to which he was the Chief Strategy Office of the European Space Agency (ESA) and before, the Director of the European Space Policy Institute (ESPI).
SpaceWatch.Global thanks Prof. Kai-Uwe Schrogl of the International Institute for Space Law for the interview.