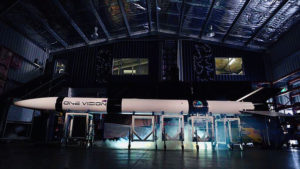 Australia's leading rocket company, Gilmour Space Technologies, has signed a Statement of Strategic Intent and Cooperation with the Australian Space Agency, demonstrating their commitment to launch Australia to space.
The signing ceremony, held at the company's new facility in Gold Coast, Queensland, was attended by Australia's Minister of Industry, Science and Technology Karen Andrews, and Australian Space Agency deputy head Anthony Murfett.
"We recognise our responsibilities as a leading domestic space company, and today's signing documents our intention to help grow a sustainable space ecosystem in Australia and provide world-class launch capabilities to the growing global small satellite industry," said the company's founder and CEO, Adam Gilmour.
Gilmour Space is developing new hybrid rockets to launch small satellites into low earth orbits by 2022. In the last two-and-a-half years, the company has successfully test-fired their proprietary hybrid rocket engine to a record 80 kilonewtons of thrust, completed testing a semi-autonomous mobile launch platform in rural Queensland, raised two rounds of venture capital funding, signed a Space Act Agreement with NASA, and tripled their team to 45 employees on the Gold Coast.
Minister Karen Andrews, who witnessed the signing between Gilmour Space and the Space Agency today, added: "This new partnership shows the breadth of capabilities being developed in Australia. Gilmour's stratospheric growth in recent years is a terrific example of the economic and job opportunities in the space sector."
"Dynamic companies like this also will inspire our next generation of space entrepreneurs by championing the role of space here on our shores," she added.
Mr Murfett agreed: "Gilmour Space has raised the profile of Australia's space industry across the globe and inspired our children to get involved in space activities. The Agency and Gilmour Space share the objectives of enhancing the capability, capacity and competitiveness of Australia's space industry while being globally responsible."
"It's been an exciting year for us and indeed for Australia," said Mr Gilmour, who also sits in the Agency's Space Industry Leaders Forum. "There's a lot of work yet to be done, many more opportunities to be explored, and we certainly look forward to growing the space industry here, together."