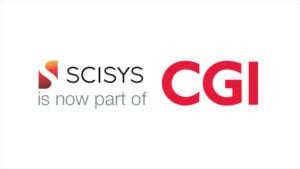 CGI announced on 18 December 2019 the completion of the previously announced acquisition by its wholly owned indirect subsidiary CGI Group Holdings Europe Limited of the entire issued and to be issued share capital of SCISYS.
Dublin-based SCISYS operates in several sectors, with deep expertise and industry leading solutions in the space and defence sectors, as well as in the media and broadcast news industries. This acquisition of SCISYS will add more than 670 highly skilled professionals to CGI. Predominantly based in the UK and Germany, SCISYS will complement CGI's strong capabilities and client relationships in these countries.
"I want to warmly welcome SCISYS professionals to CGI," said George D. Schindler, President and Chief Executive Officer. "Together, we deepen our expertise and IP portfolio in the space, media and government industries."
"We are very excited for the SCISYS team to be joining us, said Tara McGeehan, CGI President of UK operations. "The merger unites two great companies that share a dedication to their employees, clients and the communities they serve."
"The addition of SCISYS consultants and IP to CGI's local presence and global reach will benefit our clients, and in particular make our investment in the European space industry more relevant than ever before," added Torsten Strass, CGI President of Central and Eastern Europe Operations.
Founded in 1976, CGI is among the largest independent IT and business consulting services firms in the world. With 77,500 consultants and other professionals across the globe, CGI delivers an end-to-end portfolio of capabilities, from strategic IT and business consulting to systems integration, managed IT and business process services and intellectual property solutions. CGI works with clients through a local relationship model complemented by a global delivery network that helps clients digitally transform their organizations and accelerate results. With Fiscal 2019 reported revenue of Canadian $12.1 billion, CGI shares are listed on the TSX (GIB.A) and the NYSE (GIB).