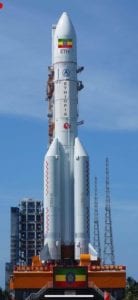 Ethiopia's first Earth observation satellite, the Ethiopian Remote Sensing Satellite (ETRSS-1), was successfully launched on board a Chinese Long March 4B satellite launched vehicle from the Taiyuan Satellite Launch Centre on 20 December 2019.
The launch was delayed by several days due to inclement weather in the Taiyuan SLC area.
ETRSS-1 is a multi-spectral remote sensing system, weighs 70 kilograms, and cost U.S.$8 million to build, with a reported 75 percent of the funds coming from China. Over 60 Ethiopian engineers and scientists were involved in the design, development, and manufacture of ETRSS-1 along with Chinese engineers and scientists from the China Academy for Space Technology (CAST).
ETRSS-1 is operated by the Ethiopian Space Science and Technology Institute (ESSTI) and will be used for environmental monitoring and climate research, agricultural monitoring, resource management, and other civil uses.
Ethiopian President Sahle-Work Zewde told the country's parliament in October 2019 that, "The satellite will provide all the necessary data on changes in climate and weather-related phenomena that would be utilised for the country's key targets in agriculture, forestry as well as natural resources protection initiatives."
In April 2019, Ethiopian Prime Minister Abiy Ahmed visited the CAST facilities to see the ETRSS-1 satellite being built while he attended the second Belt and Road Forum for International Cooperation in Beijing.
Ethiopia has also awarded a contract to Chinese company for the build and launch of a communications satellite in May 2019, presumably with the China Great Wall Industry Corporation (CGWIC).