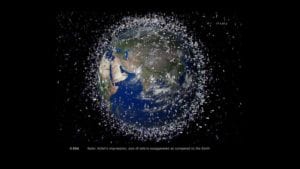 DLR Space Management has commissioned the Bochum space experts at SCISYS Deutschland GmbH to implement a central database for data and information as part of the EU Space Surveillance and Tracking Project (EUSST).
The accumulation of debris in space is a problem that is increasingly occupying the United Nations as well as national and international space organisations. Space debris endangers active satellites and space stations. The aim of international and national efforts is there-fore to prevent collisions and damage to satellites more effectively in the future. This can be achieved by constantly monitoring as many potentially dangerous objects as possible on different Earth orbits. To this end, SCISYS already started in mid-2018 to set up and operate a central database for DLR space management as part of the European project "EU Space Surveillance and Tracking" (EUSST).
In August 2019, a further long-term contract was awarded for the implementation of the database, with extension options until 2025. With its expertise in databases, web applications and software interfaces, SCISYS supports both the EUSST database currently under construction and the database used exclusively for national evaluations by the German Space Operations Centre (Weltraumlagezentrum) in Uedem.
With the common goal of being able to identify and ward off dangers from space debris at an early stage, observation data is shared via the database developed by SCISYS in order to create a European catalogue of orbital data.
Where does space debris come from?
For decades people have been using technology in space to look at the earth, the sun, the moon, nearby planets and even the depths of the universe. For this purpose, a large number of spacecraft have been launched, satellites have been placed in different orbits and the construction and maintenance of entire space stations have been conducted. Over the years, this has resulted in a large number of inactive objects in space that potentially pose a threat to the active space infrastructure. Collisions have already occurred. These collisions even release new space debris of various sizes and thus increase the risk for the future exploitation of space. With the support of this database, a central interface for the provision of measurement data and the exchange of orbital data is emerging within the framework of the EUSST project in order to generate services and procedures and thus reduce the risk of spacecraft damage or even loss, caused by space debris.