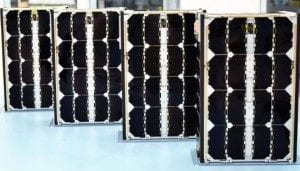 Kleos Space S.A., a space-powered Radio Frequency Reconnaissance data-as-a-service (DaaS) company, has received confirmation that the Kleos Scouting Mission-1 will launch on an Indian Space Research Organization (ISRO) Polar Satellite Launch Vehicle (PSLV) from Chennai, India, in December 2019.
Kleos' cluster of four satellites are confirmed as mission ready for PSLV integration and technical effort has ensured the satellites will function with dispensers for with the PSLV rocket. The satellites have passed a deployer fit check which confirms satellites conform to the PSLV requirements.
The Scouting Mission satellites will launch from the Satish Dhawan Space Centre aboard PSLV C49 (a rideshare launch including satellites from other organisations such as Spire Global) into a 37-degree inclination delivering optimised revisit rates over crucial shipping regions including the Strait of Hormuz, South China Sea and East and West African coasts compared to the original Sun Synchronous orbit. The four-week launch preparation schedule will commence in mid-November with shipping of high purity butane satellite fuel to the launch integration facility in Chennai.
While launch preparations are underway, Kleos remains focused on securing additional Government and commercial pre-order contracts and is on track to achieve first revenues in Q1 2020. The development of Kleos' second cluster of satellites, which will enhance data collection and increase revenues and customers, is progressing.
Kleos' Scouting Mission satellites will geolocate maritime radio frequency transmissions to provide global activity-based intelligence irrespective of the presence of Automatic Identification Systems (AIS) or any other positioning system, or when imagery is unclear and targets are out of maritime patrol range. The geolocation data will enable governments and organisations to detect hidden maritime activity such as drug and people smuggling, piracy and illegal fishing as well as identify those in need of search and rescue at sea.
Kleos CEO Andy Bowyer said, "Satellite launches are highly complex, requiring extensive pre-flight testing of critical functions that cannot be fast-tracked without compromising the mission. Our Scouting Mission satellites are mission ready, forming the foundation of future constellations when they launch in December, we are on track to generate first revenues in Q1 2020."