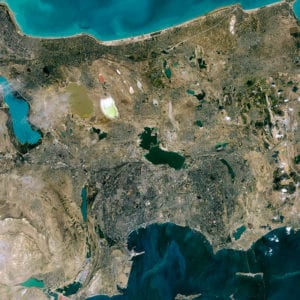 China and Azerbaijan have great prospects for cooperation in the space sector, Chinese Ambassador to Azerbaijan Guo Min told reporters in Baku, Azerbaijan, according to a report by the Trend News Agency on 18 October 2019.
"We look forward to cooperating with Azerbaijan in this direction," the ambassador said. "China can help Azerbaijan achieve even greater progress in this area. It is necessary to establish contacts between the competent authorities of the two countries for cooperation in the space sector. An intergovernmental commission in the economy field is functioning between China and Azerbaijan. It is also necessary to create other mechanisms, for example, in the field of high technologies. Thanks to these mechanisms, we will have the opportunity to discuss issues of cooperation in more details. We have great prospects for cooperation in this direction."
The statement by China's ambassador to Azerbaijan comes as both countries are deepening their economic ties through China's Belt and Road Initiative (BRI), and as Baku and Beijing also explore deepening defence and security ties.
Azerbaijan's geographical position on the Caspian Sea and as part of the South Caucasus places it on a strategic crossroad in Eurasia that connects Europe and the Middle East with Central Asia and China.
The Belt and Road Initiative has a digital and space component that aims to connect Eurasia and Africa with Earth observation, communications, and positioning, navigation, and timing (PNT) satellites. China is promoting its Beidou global navigation satellite system as the PNT service of choice among BRI member states, and is also building a civil and commercial space ecosystem that will provide Earth observation, meteorological, and satellite communications services as well.
For its part, Azerbaijan, through its state space corporation AzerCosmos, operates U.S. and French-built communications (AzerSpace-1 and AzerSpace-2) and Earth observation (AzerSky) satellites, and is looking to expand and further develop its space capabilities.