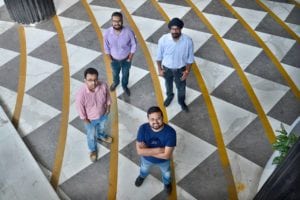 SatSure, the Indian geospatial data analytics company that utilises advances in Earth observation satellites, machine learning, and big data analytics, has announced that it has won the Imkan Innovation Award worth U.S.$10,000 at startAD's Venture Launchpad.
Organised by startAD, the Abu Dhabi, UAE-based global accelerator powered by Tamkeen, the Venture Launchpad sprint accelerator helps local companies innovate through global tech startups.
startAD also supports startups to validate their business model and enter the UAE market through pilot projects with leading national companies.
This year's Venture Launchpad focused on the construction and real-estate management industries in the UAE. Partners included Imkan, Consolidated Contractors Company (CCC), Abu Dhabi National Exhibition Centre (ADNEC), and the Abu Dhabi Department of Urban Planning and Municipalities (DPM).
SatSure overlays Earth observation data derived from satellite imagery over public datasets to develop decision-making insights for planning and monitoring assets and estimating their underlying value.
Prateep Basu and Rashmit Singh Sukhmani, founders of SatSure, said, "We are very excited to win this award, and we look forward to continue innovating at the intersection of satellite technology and Artificial Intelligence – we would like to thank Imkan for placing their trust in us and our startup."
Research Professor of Engineering and Vice Provost for Entrepreneurship at New York University-Abu Dhabi (NYUAD), and managing director of startAD, Ramesh Jagannathan, said, "With the construction industry contributing 8.4 percent to the UAE's gross domestic product (GDP), it has become a priority for government and private sectors alike."
"This can partially be attributed to the country's ambitions in achieving smart cities that enable a greater opportunity for businesses, enhanced citizen engagement, and economic development," he said.
"Venture Launchpad supports these goals by further strengthening local leaders in the construction space with cutting-edge technology solutions to advance the sector. My congratulations to SatSure, whose concept of leveraging advances in satellite remote sensing, machine learning, and big data analytics, has the potential to address a number of challenges currently facing the industry," Jagannathan added.
Walid El Hindi, CEO of Imkan Properties, said, "We are committed to supporting our future generations and are immensely proud to be such a big part of startAD. We take a research-led approach to all our developments, and the solutions SatSure have proposed will aid and enrich our ability to build soulful vibrant places."
"We believe working with youthful, innovative, and uninhibited minds as an extension of our team is incredibly invaluable," he added.
Venture Launchpad is startAD's flagship programme designed to help startups rapidly refine, improve, and validate their business models for local and regional markets. Since September 2017, the sprint accelerator has worked with 102 startups from 37 countries, securing over 15 pilot projects with the programme's partners, and raising more than U.S.$12 million in investments.
This year's Venture Launchpad brought together 11 startups from eight countries with solutions relevant to the UAE in predictive maintenance, autonomous building management systems, geospatial data analytics for urban space planning and management, proximity intelligence for user experience improvement, and products for sustainable modular housing.