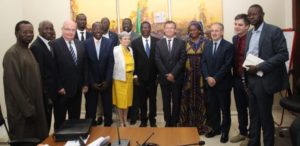 According to Joseph Ibeh of Space in Africa, the Government of Senegal is set to grow the nation's capability in the development of small satellites and space applications following a recommendation resulting from national consultations on the future of higher education in the prominent West African country.
On 14 January 2019, Senegal's Minister for Higher Education, Research, and Innovation, Mary Teuw Niane, signed two agreements with the French national space agency, the Centre national d'études spatiales (CNES), and the ArianeGroup to step up collaboration between Senegal and France, its former colonial ruler.
The scope of the space cooperation agreements is said to include technology transfer programmes, joint satellites programmes, education initiatives, specialist training, and personnel exchanges.
The cooperation partnership will geographically centre around Senegal's City of Knowledge, with the establishment of a satellite design and assembly centre for the development of small satellites. The centre will help Senegalese New Space startups to enter the global satellite original equipment manufacturer (OEM) value chain in the long-term, as well as help the Senegalese government with its space technology needs.
With no principal space agency, Senegal's Higher Institute of Advanced Technologies has been designated to implement the agreement in collaboration with other government institutions, the research community, and the private sector, according to Space in Africa's Ibeh.
The Higher Education Minister, Mary Teuw Niane, expressed confidence in how the space cooperation could create "new paradigms to research, security, as well as to agriculture and habitat among other areas." According to Niane, "it is possible to rise to the challenge and place Senegal among the countries that matter in the field of space studies."
Jean-Pascal Le Franc, CNES's Director of Programming, emphasized the commitment of CNES and the French government to help create a space ecosystem that will spur innovation and facilitate the emergence of many New Space startups in Senegal. According to Le Franc, "many African nations are increasingly involved in space, both for its applications and for its academic and educational benefits. This agreement putting our cooperation with Senegal on a formal footing feeds into this dynamic and it's great to see that future exchanges between CNES and Senegal's Ministry for Higher Education, Research, and Innovation are going to help establish Africa's space ecosystem."
If the partnership is successfully implemented, according to Joseph Ibeh, Senegal could join ranks with the growing New Space cluster in South Africa and the emerging aerospace ecosystems in Morocco, Tunisia, and Algeria.