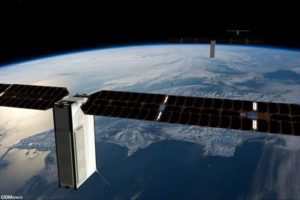 Sky and Space Global Ltd. (SAS), the Australian Stock Exchange-listed narrowband satellite communications company, announced on 21 January 2019 that it has signed a Reseller Memorandum of Understanding with Global Telesat SL and a Trial Service Agreement with Telespazio Brasil S/A.
Global Telesat is a global communications company based in Spain that specialises in satellite IP services and electronic security worldwide but principally across Africa, where they have a 10- year presence. Global Telesat is the official distributor for Ka-band connectivity in Angola, providing turnkey telecoms solutions, broadband and broadcasting YahClick services on the satellite Yahsat.
Under the terms of the Resller MoU, SAS and Global Telesat will work closely to explore how the SAS nano-satellite connectivity can be incorporated into Global Telesat's network and utilised to improve Global Telesat's offering.
The Reseller MoU with Global Telesat further proves that SAS's products are being recognised in the international resellers network. It also fits into SAS's vision of becoming a dominant player in the satellite communication market.
Telespazio Brasil was founded in 1997 and is based in Rio de Janeiro, operating as a subsidiary of Telespazio Spa. The company offers solutions in the fields of satellite telecommunications, multimedia services, images and applications for earth observation, and satellite navigation, as well as satellite ground systems.
Under the terms of the Trial Service Agreement, Telespazio Brasil will conduct trials using certain SAS solutions and evaluate their Nano-Satellite based communication network for the purpose of integrating and utilising SAS services into their systems.
The Trial Service Agreement further strengthens SAS's commitment to support companies like Telespazio Brasil in providing advance communication services and more accessible connections within the equatorial regions.