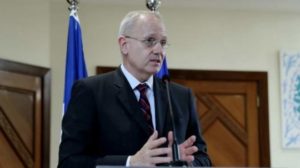 On 17 January 2019 the Centre national d'etudes spatiales (CNES) was selected as business provider for the French Tech Seed investment fund. The winners of the Call for Interest, launched by Bpifrance, were announced by Frédérique Vidal, France's Minister of Higher Education, Research and Innovation, Agnès Pannier-Runacher, Secretary of State to the French Minister for the Economy and Finance, and Guillaume Boudy, France's Secretary General for Investment. CNES will head a consortium responsible for supporting space startups in their bid to secure funding from investors, and for leveraging French Tech Seed funding to help make the space sector a driver for economic development.
Announced by the French Prime Minister on 21 June 2018, French Tech Seed is a €400 million investment fund provided by France's Investment Programme for the Future. It is managed by Bpifrance—a public investment and business development bank—which will give two euros for every euro of private investment. Its aim is to support technology startups in the post-maturity stage, especially those in their first three years, and deep-tech startups i.e. those providing products or services based on disruptive innovations.
The consortium chosen by Bpifrance brings together, in addition to CNES, the Aerospace Valley, ASTech and Safe competitiveness clusters, Ouest BIC Technopole (a group of business incubators based in France's Brittany and Loire regions) and CapDécisif Management—an asset management company specialized in innovation capital and responsible in particular for managing the CosmiCapital venture capital fund. Each partner will contribute its specific expertise in order to support fundraising, presentation work, relations with investors and so on. As head of the consortium, CNES will forward the selected projects to Bpifrance and leverage its technical expertise, technological platforms and networks to help companies fine-tune their propositions. Following a rigorous selection process, the consortium aims to nominate 15 startups each year for joint investment from the French Tech Seed fund.
Following the announcement, CNES President Jean-Yves Le Gall said: "I am delighted that CNES has been named as the business provider for French Tech Seed. This demonstrates once again the fact that innovation is central to CNES, and confirms its key role in uniting, promoting, and building the space sector of tomorrow."
French startups relating to space constitute a fast-developing segment of the deep-tech sector, thanks to technological breakthroughs, business models and highly positive market forecasts. It's an ecosystem made up of three sub-segments, as determined by companies' position in the space sector value chain: upstream (launchers, satellites, ground segments etc.), downstream (space data related applications), and technology transfer (both to and from the space sector).