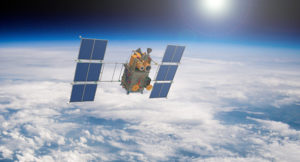 Roscosmos head, Dmitry Rogozin has announced that Russia will construct Sovereign's Eye ('Gosudarevo Oko'), a new constellation of remote sensing satellites that will enable them to identify any changes that are happening on Earth. Rogozin highlighted that the new initiative will enable Russian to strengthen its Digital Economy programme, which aims to improve the way in which educational institutions, cybersecurity, research and IT infrastructure, operates.
The goal of the satellite network is to improve monitoring for civilian agencies such as the country's Ministry of Emergency Situations which deals with emergency response and also agriculture and energy production.
Sovereign's Eye will also facilitate the monitoring of infrastructure and buildings, flagging up any changes. Using digital monitoring and various angles, this gives a detailed picture of the state of whatever is being monitored.
According to the UN, Russia launched over 24 satellites in 2018.
In December, two Canopus-V remote sensing satellites were lofted from Vostochny Cosmodrome. Sources say that by 2020, the number of Russia's remote sensing satellites will rise to 15 at the minimum. Included in this system are six Canopus-V satellites which feature a multi-spectral camera, are very powerful and can deliver very detailed information. Jointly developed by the Russian Scientific Research Institute of Electromechanics and Surrey Satellite Technology, the Canopus-V satellites use GPS and GLONASS for navigation and operate in a sun-synchronous orbit, 510km above the Earth.