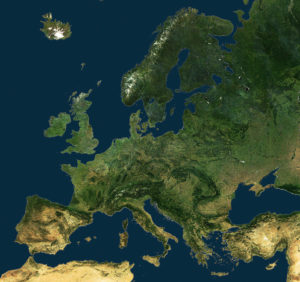 Some unnamed European Union member states are discussing the possibility of creating a European space force according to Elzbieta Bienkowska, the European Commissioner for Internal Market, Industry, and Entrepreneurship and who is also in charge of EU space policy.
"Several member states are considering just now ways to strengthen their defence doctrine to space dimension. They are talking about space forces", Bienkowska said, as quoted by the EUobserver online newspaper in a report published on 23 January 2019.
Commissioner Bienkowska did not provide any details about which EU member states are discussing the creation of a European space force.
"What is becoming a reality at the national level, probably should also become a reality at the EU level. We need to discuss, [on the] medium [to] long term, a European Space Force," she said.
The call for further discussion on a European space force came as a surprise to some European defence officials. Jorge Domecq, the chief executive of the European Defence Agency (EDA), for example, was puzzled by Commissioner Bienkowska's statements.
"The EDA is an intergovernmental agency. I follow the guidance of member states. To my knowledge, no member state has so far put forward that idea and the agency is not working on it," said Domecq.
"I have of course heard about the concept being used by individuals here and there, but as a formal proposal, to my knowledge, it is not on the table at this point in time," he added.
Mr. Domecq, however, is broadly supportive of a discussion on such a proposal, given the current developments in national security space in the United States, Russia, and China.
"The US is an important ally. (…) If your main partner is developing its space capabilities, its space policies in a direction, you have to take note of them when you are developing further your space defence programmes," Domecq said.
Other EU officials that the EUobserver spoke to on the condition of anonymity were skeptical about the notion of a European space force, but did acknowledge that the space domain is becoming a place of increasing military competition between great powers, to include the prospect of actual weaponisation.
"We are not yet there. I don't know whether we will ever have the resources to get there," one official noted, referring to the possibility of a European space force.
The same official did point out, though, that EU space programmes such as the Galileo navigation satellite system, and the Copernicus Earth observation constellation, could be used for military purposes by some EU member states, and not by others.
"There will be member states using it for military purposes, and there will be others states using it for emergency services and what have you. This is a decision of the individual member state," the anonymous official said.
In any case, European officials also recognise the need for strategic autonomy in space capabilities among European states as a whole given the increasingly strained dynamics in geopolitics today.
"I think we need to do this as quickly as possible, because with Mr Trump they [the US] can even drop out of NATO from one day to the other," the same unnamed EU official told the EUobserver.