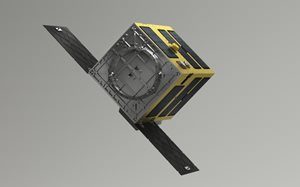 GK Launch Services, a subsidiary of Glavkosmos, Lavochkin Association, and Astroscale Japan Inc. held a kick-off meeting in Moscow on 12 December 2018 under the agreement on launch services for the Astroscale End-of-Life Services by Astroscale-demonstration (ELSA-d) satellite. ELSA-d will be orbited within a Soyuz-2 cluster mission that is scheduled to launch early 2020 from the Baikonur Cosmodrome in Kazakhstan.
ELSA-d is an in-orbit demonstration of the rendezvous and docking technology necessary for future semi-cooperative debris removal missions. The groundbreaking mission consists of two spacecraft, a Chaser (~160 kg) and a Target (~20 kg), to be launched stacked together. The Chaser is equipped with rendezvous and docking proximity operations and a magnetic capture mechanism which enables it to connect with a docking plate on the Target.
Astroscale is the first private company with a mission to secure long-term spaceflight safety and orbital sustainability for the benefit of future generations. Founded in 2013, Astroscale is developing innovative and scalable solutions for satellite end-of-life and active debris removal services to mitigate the growing and hazardous build-up of debris in space. With its headquarters in Singapore, a Research and Development facility in Tokyo, and an Operations Centre in Harwell, United Kingdom, as well as a representative in Washington DC, United States, Astroscale is a rapidly expanding venture company that is preparing to solve a growing environmental concern.
GK Launch Services is the operator for Soyuz-2 commercial launches from Russian spaceports.