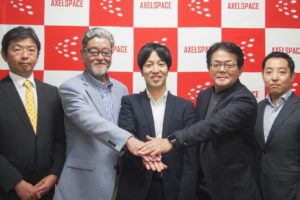 Japanese New Space Earth observation company Axelspace Corporation has completed a Series B funding round raising approximately 2.58B JPY (U.S.$22.8 million). The round sees the allocation of new shares to the lead investor 31VENTURES – Global Brain – Growth I Joint Venture (managed by Mitsui Fudosan Co. Ltd. and Global Brain Corporation) and to several other venture capital and corporate investors.
The Series B funding round means that a total of U.S.$40 million has been invested in Axelspace to date.
With this critical step Axelspace moves closer to the realization of the new-generation Earth-observation infrastructure AxelGlobe, which will observe the whole planed every day, as announced in December 2015. The launch of the GRUS satellite, which had been postponed in 2017, will be performed in December 2018. Moreover, the structure of the organization has undergone some changes in association with the funding event.
Along with 31VENTURES-Global Brain-Growth I Joint Venture, the other investing institutions who took part in the Axelspace Series B funding round include Innovation Network Corporation of Japan (INCJ), Innovation Platform for the University of Tokyo (UTokyoIPC), SBI Investment Co. Ltd., and the Dai-ichi Life Insurance Company Limited.
With the funding obtained in this round Axelspace will develop two additional GRUS satellites for launch in 2020. Increasing the number of satellites will lead to more frequent captures of Earth imagery. To tap into this valuable new resource, Axelspace are preparing to begin a large-scale collaboration with Mitsui Fudosan, also one of the lead investors.
"Our focus is to build a constellation that will be able to cover the entire globe on a daily basis," Yasunori Yamazaki, the newly appointed Chief Business Development Officer at Axelspace, told Space News. "At the moment we are not sure how many satellites it will require to do that. We are thinking it will be something between 10 and 20, but we are not sure. We will be more concrete in terms of our plans once we launch and start operating."
The launch of the first GRUS satellite, which was postponed from 2017 to this year due to hardware improvements, has been fixed. The GRUS satellite is scheduled to be launched into a 600 kilometre altitude Sun-synchronous orbit on board a Soyuz-2 satellite launch vehicle from the Vostochny Cosmodrome in Russia on 27 December 2018, contingent on weather conditions. The launch services for the GRUS satellite are being managed by Russian launch services company GK Launch Services, a subsidiary of Glavkosmos. The satellite has already reached the launch site and the final preparations for launch are ongoing.
With the completion of the Series B round, Axelspace moves to a new stage. To better support this growth, the company has created the new executive positions of Chief Financial Officer and Chief Business Development Officer and have made several other structural changes, strengthening the company leadership.
Masayuki Nagayama has been appointed to the position of Chief Financial Officer, and graduated from the Department of Systems Innovation of the University of Tokyo. He joined Axelspace in 2018 after gaining experience in business firms, mergers and acquisitions (M&A) advisory firms, and investment companies. It is expected that he will put his experience of business administration, business development, M&A, and investing to use in this new executive role.
Yasunori Yamazaki has been appointed to the position of Chief Business Development Officer, and has long experience in the financial sector where he has worked on corporate marketing, branding, and corporate access. He joined Axelspace in 2017 and brings strengths in planning and execution of global deployment and development strategies.
Dr. Naoki Miyashita has been appointed to the position of Chief Technology Officer at Axelspace. Dr. Miyashita completed a doctoral degree in the Department of Mechanical and Aerospace Engineering at Tokyo Institute of Technology while concurrently being involved in the development of two nanosatellites. He co-founded Axelspace in 2008 and has served in executive roles ever since.
Axelspace co-founder Takashi Eishima has left the role of CTO and will focus on implementing the standardization, optimization, and innovation of the company's satellite technology development process as a senior fellow. Masaru Murai, who has been an external director since 2015, has left that position and has returned to the role of external auditor.
The proposed AxelGlobe Earth observation constellation aims to provide 2.5 metre resolution satellite imagery in red, blue, green, near-infrared, and red-edge wavelengths that will allow the company to provide data measurements of vegetation for environmental monitoring and protection, resource and agricultural management, and for commodity markets.
According to Space News, Axelspace is also looking to expand outside of Japan and may open a regional office in the United States, Europe, or the Asia-Pacific region.