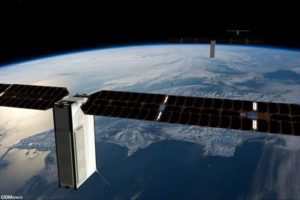 Sky and Space Global Ltd. is pleased to announce it has signed a binding Memorandum of Understanding (MoU) agreement with Blue Power Group.
Founded in 2009, Blue Power Group is dedicated to providing solar power technology all around the world. Active in more than six countries, including Africa, Blue Power Group aims to bring electricity to developing regions, where stable power supply is the most needed and will be involved in several solar farms of 10MW in the next years, and also in health centre projects as part of UNICEF projects.
Under the terms of the agreement, SAS and Blue Power Group will work closely to explore how the SAS nanosatellite connectivity can be incorporated into Blue Power Group's network and utilised to improve its service offering for border surveillance, farms, irrigation, road lighting, radars, etc. The MoU will be utilised by both companies as a framework towards a full commercial contract.
The signing of this agreement provides further validation of SAS' proprietary nanosatellite technology and supports its business model of providing connectivity to millions of people and businesses that have unreliable or inaccessible connectivity.
Sky and Space Global's Managing Director and CEO, Meir Moalem, said, "Providing our unique SAS services to the utilities sector of the market has always been part of our strategy. We are happy to start working with Blue Power Group and provide connectivity services where it is most needed."
Dr. Olivier Katz, CEO of Blue Power Group, said, "We are very happy and it's a big opportunity to couple our off-grid solar energy mastery with a specialist in satellite communication company such as Sky and Space Global. This will bring a double revolution to African villages: electricity and low-cost communication at the same time."