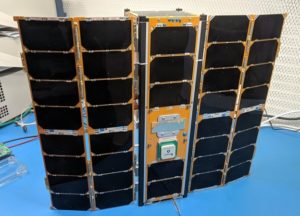 Fleet Space Technologies' second Centauri nanosatellite was successfully launched aboard SpaceX's Falcon 9 SSO-A mission from Vandenberg Air Force Base, in California.
This is the fourth commercial satellite launched by the Adelaide-based Internet of Things (IoT) startup in the past month, after Centauri I was launched aboard Indian Space Research Organisation's (ISRO) PSLV-C43 mission on Thursday 29 November 2018 and experimental satellites Proxima I and II were launched aboard Rocket Lab's It's Business Time manifest on Sunday 11 November 2018.
Both Proxima satellites and Centauri I are successfully completing their duties. The second Centauri satellite is expected to start transmitting data in the next few weeks.
Centauri I and II are a pair of identical 3U nanosatellites, designed by Fleet Space Technologies, built by Pumpkin Space Systems and tracked with ground station support from Leaf Space. The satellites will form a constellation in Low Earth Orbit (LEO) powering a global network of connected sensors and devices to revolutionise industries. Just one satellite has the ability to cover 90 per cent of the Earth.
The flight was facilitated by Seattle-based launch services and mission management provider, Spaceflight.
On the news, Flavia Tata Nardini, Co-founder and CEO, Fleet Space Technologies,
"It's a big month for us! To launch four satellites on three separate missions is an enormous task and our team has risen to the challenge. In the past five days alone, we've successfully deployed Centauri I and II into Low Earth Orbit."
"We're thrilled to showcase Fleet Space Technologies' capabilities to the world by launching our very own constellation of nanosatellites within a matter of weeks. It is incredible to work with industry heavyweights such as SpaceX, ISRO and Rocket Lab to help make our vision of building the global digital nervous system a reality."
"This whirlwind month is a testament to our fantastic, talented and nimble team spread across the globe. Without them, we wouldn't have these satellites up and functioning. There's no time to rest, we're on and upwards to provide our customers with global connectivity to solve the world's future challenges from space."