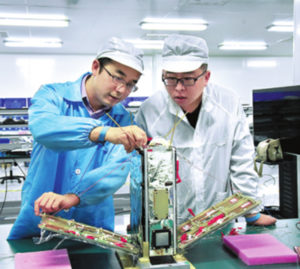 Spacety, the Chinese small satellite startup, is expected to carry out two further launch missions on behalf of clients in November and December 2018, but exact dates are not yet confirmed according to the intrepid Andrew Jones in GBTimes.
These two missions will follow the successful launch of four Spacety-built CubeSats on a Long March-2C launch vehicle on 29 October 2018 from the Jiuquan Satellite Launch Centre in China.
Xiaoxiang-1 (05), Tianfuguoxing-2, and Tianfuxinghe will be launched on a Long March 2D launch vehicle, while more Spacety payloads could be aboard the maiden launch of the Kuaizhou-11, a new solid-propellant rocket developed from missile technology from state-owned CASIC and used by Expace, a semi-private company that is backed by CASIC and the China Sanjiang Space Group.
Kuaizhou-11, or KZ-11, will have a liftoff mass of 78 tonnes and is capable of lofting a 1 metric tonne of payload in to a 700 km altitude Sun-synchronous orbit (SSO). The launch vehicle is expected to bring significant improvement in Chinese launch capacity, and will also decrease costs and boost international competitiveness in commercial satellite launches, according to Liang Jiqiu, chief designer of the KZ-11, while Zhang Di, deputy head of CASIC, claims Kuaizhou launch costs will be as low as U.S.$5,000 per kg. of payload.
Other Spacety-built satellites being prepared for future launch include the Quantutong-2 (全图通一号/QTT-2) satellite, which will test the integration of navigation, remote sensing, emergency response, and broadband communication technologies, and Tianji-1 and -2.
LaserFleet, a Chinese New Space company that aims to build a laser satellite communications megaconstellation, partnered with Spacety to build Xiaoxiang-1 (05).
LaserFleet, along with the rest of the Chinese New Space sector, emerged following a 2014 Chinese government decision to open up portions of the space sector to private capital. Many have received capital from both private and state-owned backers, sometimes with technology involved in cases of the latter, and local government support, as seems to be the case with Hunan-based Spacety and OneSpace – another Chinese New Space launch company – in Chongqing.