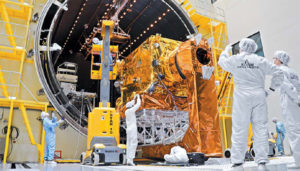 The South Korean government announced on 18 October 2018 that the country's Chollian-2A geostationary meteorological satellite, is expected be launched on 5 December 2018.
The multipurpose satellite, developed by the Korean Aerospace Research Institute (KARI), is set to lift off aboard am Ariane-5 launch vehicle made by Arianespace from the Guiana Space Centre at Kourou in French Guiana at 5:40 a.m., according to the South Korean Ministry of Science and ICT.
The Chollian-2A is a follow-up satellite to Chollian-1, the country's first geostationary meteorological satellite launched in June 2010.
Chollian-1 was designed for oceanography and meteorological Earth observation and was able to capture imagery of modest capability when compared with its successor, the Chollian-2A, that is designed to capture imagery with much higher resolution and faster download speeds.
Chollian-2A and -2B are part of the GEO-KOMPSAT-2 (GK-2) series of meteorological and environmental monitoring satellites that will operate from geostationary orbit.
Chollian-2A (GK-2A) will provide terrestrial and space weather monitoring, and is equipped with an Advanced Meteorological Imager (AMI) and a Korean Space Environment Monitor (KSEM) payloads, and will maintain position at 128.2° East.
Chollian-2B (GK-2B) will be an oceanography satellite.
Both satellites will share the same bus, and are expected to have an operational lifetime of 10 years each.
The imminent launch of Chollian-2A, and the development of Chollian-2B, comes as KARI and the Korean Meteorological Administration (KMA) signed an agreement with the French national space agency, the Centre national d'etudes spatiales (CNES), to participate in the French-led Space Climate Observatory (SCO) that will provide global and persistent environmental monitoring to help mitigate the effects of climate change.