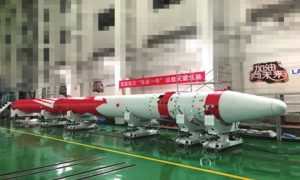 Chinese New Space satellite launch company LandSpace is expected to attempt the maiden orbital launch of its Zhuque-1 launch vehicle from the Jiuquan Satellite Launch Centre (JSLC) in China's Gobi Desert on 27 October 2018, according to a report by Andrew Jones in GBTimes.
If successful, the Zhuque-1 launch will make LandSpace the first private Chinese company to launch a payload into Earth orbit, ahead of its national rivals OneSpace, iSpace (not to be confused with its Japanese New Space startup namesake), ExPace, and LinkSpace. Other Chinese New Space launch competitors include S-Motor, JiuZhou YunJian, SpaceTrek, Galaxy Space, Deep Blue Space, and Xinghe Power, but none of these are believed to as advanced in their launcher development as LandSpace, OneSpace, iSpace, LinkSpace, and ExPace.
OneSpace and iSpace are expected to attempt their first orbital launches in early 2019, while LinkSpace, which is developing its NewLine-1 reusable launch vehicle (RLV), is expected to attempt its first orbital launch in 2020. Many of these companies have already conducted suborbital launches over the past several months.
Expace, which is alleged to be backed by Chinese state enterprise China Aerospace Science and Industry Corporation (CASIC) and China Sanjiang Space Group, is expected to attempt its debut orbital launch with its Kuaizhou-11 launch vehicle by the end of 2018.
While LandSpace has set a date of 27 October for its maiden launch, there have been no other announcements regarding the event and it can be expected that the date might slip. by several days either side. A reliable indication that a launch is imminent will be the Chinese issuance of notifications to airmen (NOTAM) that warns commercial aviation to steer clear of the Jiuquan Space Launch Centre.
The expected launch of LandSpace's Zhuque-1 launch vehicle comes as U.S. New Space investment company Space Angels revealed that Chinese New Space industry is receiving an increasing portion of global New Space investments when compared to other regional sectors, with U.S.$230 million poured into Chinese companies in 2017, and U.S.$217 million invested so far this year.