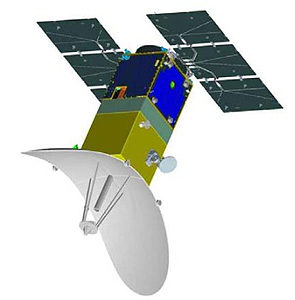 Vietnamese and Japanese officials revealed last week that they expect the Vietnamese radar Earth observation satellite, LOTUSat-1, to be launched sometime in 2019 after years of regulatory and diplomatic delays.
The LOTUSat-1 system, estimated to be worth U.S.$301 million, is being paid for using official Japanese development assistance funds and appropriated funds from the Vietnamese state budget from 2011 to 2023. The project was approved by the Vietnamese government in 2006.
Vũ Anh Tuân, deputy head of Vietnam National Space Centre (VNSC), said the construction of a satellite control and data receiving centre is part of the LOTUSat project, and is expected to be completed by 2019. VNSC previously successfully developed the first PicoDragon satellite in 2013, that operated in space for three months. Three other satellites, including NanoDragon, MicroDragon, and LOTUSat-1, are currently under development.
The LOTUSat-1 satellite is equipped with a synthetic aperture radar (SAR) imager that will provide Vietnam with the ability to view the entire country and its territorial seas in all weather conditions in high resolution.
LOTUSat-1, and its successor LOTUSat-2, is based on the Japanese Earth observation satellite, ASNARO-2. LOTUSat-1 is being built by Japanese satellite manufacturer NEC, and LOTUSat-2 is expected to be built by Vietnamese engineers under the guidance of Japanese counterparts. This has received attention from the United States due to concerns about International Trafficking in Arms Regulations (ITAR) issues since the ASNARO satellite contains restricted U.S. components.
LOTUSat-1 and -2 will be welcome additions to Vietnam's satellite capabilities, as currently the country has to wait at least two days to get image data on certain areas of its territory and waters, but that time would be reduced to between six and 12 hours once the two LOTUSat's are operational.
VNSC's Tuân said that as many as 36 Vietnamese engineers have been sent to Japan to study satellite technology, including staff involved in developing the MicroDragon satellite due to be launched by the end of 2018.
Vietnam has previously launched the VINASAT-1 in 2008, VINASAT-2 in 2012, and the VNRedSat-1 in 2013. The first two are communications satellites, while the third is an electro-optical Earth observation satellite. All three satellites were launched by Arianespace from Kourou in French Guiana.
As of this reporting, Vietnam has not designated a launch provider for LOTUSat-1.