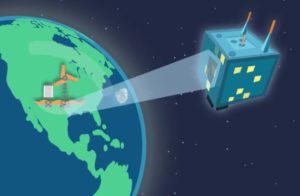 Australian New Space satellite communications company Myriota has created a new facility on the outskirts of Adelaide, South Australia, and has announced that it plans to create 50 new jobs over the next two years to accelerate its nanosatellite-enabled Internet of Things (IoT) venture.
These jobs will include highly skilled software and hardware developers, as well as data networking and satellite communications professionals.
The company also announced the appointment of Iain Cartwright as principal engineer, spacecraft and mission. He previously developed the Buccaneer satellite as part of a joint project between DST Group and the University of New South Wales. "Cartwright is one of several new appointments that has seen Myriota more than double in size since June," said Myriota CEO Dr. Alex Grant.
Myriota is a spin-out from the University of South Australia, offering "ultra-low-cost satellite IoT service" underpinned by low-cost satellite transmitters, which send low powered and small packet  messages directly to a constellation of low-earth-orbit nanosatellites.
The satellites relay the messages to earth where they are decoded by cloud–based software and sent to the end user via standard Application Programme Interfaces (API's).
Myriota is targeting a number of sectors including agriculture, defence, utilities, environmental monitoring, asset tracking, and logistics.
In September 2017 the company announced it would develop a black box-style "fight recorder" for Australian soldiers on the battlefield in collaboration with wearable technology firm IMeasureU. It has also deployed its technology into water tanks at the University of New England in Armidale to monitor levels. In March 2018, Myriota secured U.S.$15 million in a Series A funding round.
"It is a transformational time for the space industry globally, and a very exciting industry for Australia; allowing us to compete at global scale," Cartwright said. "I look forward to bringing my global experience to work with the Myriota team in driving the expansion of our space segment, and solving the connectivity challenge faced by hundreds of millions of devices."
The firm this month moved into its new headquarters at Lot Fourteen, an innovation incubator being set up in the Women's Health Centre building on the old Royal Adelaide Hospital site.
Since the founding of the Australian Space Agency in July 2018, Australia's states and territories have been competing to be its permanent home. South Australia is a significant competitor. State premier Steven Marshall said in July that the agency could set up at Lot Fourteen within six months.
In September 2018, South Australia set aside AUS$200,000 (U.S.$142,475) in 2018-19 and AUS$356,000 (U.S.$253,605) a year over three years from 2019-20 in its budget to develop an "Australian Space Innovation Precinct" at the hospital site.