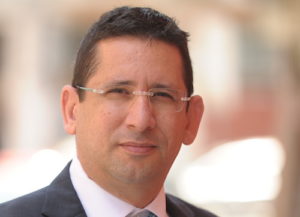 Sky and Space Global (SAS), the New Space narrowband satellite communications company listed on the Australian Stock Exchange (ASX), made a number of announcements this week that mark the company's progress in its aim to provide operational services to customers.
In what it describes as "a significant operational landmark," SAS won a Research and Development grant from the Polish government and the European Union (EU), valued at approximately AUS$500,000 (U.S.$354,572).
SAS will use the grant to create a research and development centre in Poland and purchase equipment to initiate a full-scale industrial research project into the innovation of machine-to-machine (M2M) devices and smart grids via the SAS nanosatellite constellation.
In collaboration with the Faculty of Electronics at the Wroclaw University of Technology, Poland, this project aims to innovate and disrupt the M2M and smart grid market by giving network operators in remote locations easier access to telecommunication connectivity allowing for easier aggregation of service offerings and effective network monitoring.
In line with SAS' business strategy, the project will focus on rural locations in Africa and South America and will be dedicated to improving network capabilities.
"We are excited to begin our newest R&D project with the fantastic electronics team at the Wroclaw University in Poland," said Meir Moalem, Global Managing Director and CEO of SAS. "Research is the lifeblood of innovation and I am very proud we are part of a team that will take space technology to the next level."
Additionally, SAS has signed five new binding MoU agreements with strategic global telecom operators located in Canada, India, the Caribbean, and North and South America; these MoU's will act as a precursor to signing definitive revenue generating agreements in the future.
The companies are Briskcom Business Technology, a Brazilian satellite telecommunications solutions company, concentrated primarily on the energy sector; SkyX, a Canadian data acquisition company that designs, builds, programmes and remotely operates autonomous vehicles for its clients; Penteon, a globally focused Internet of Things (IoT) engineering firm with experience in technology and the aerospace industry; Surge Telecom Ltd., a telecommunications start-up headquartered in Jamaica that provides specialised wireless telecommunications services throughout Latin America and the Caribbean; and Unizen Technologies, an Indian technology services company using satellite connectivity to provide managed services of IoT applications.
Under the terms of each MoU, SAS and the respective partner will continue to test, discuss and collaborate on how proprietary SAS nanosatellite IP can be incorporated into current and future projects to improve the reliability and accessibility of the service.
These agreements reinforce and progress the SAS business model of becoming a world leader in nanosatellite technology and providing connectivity to everybody across the world.
"The SAS team continues to work extremely hard to enhance our global exposure and build on our relationships as we head into the final quarter of 2018," Moalem continued. "All of the binding agreements signed recently include commercial terms and will be transformed to full commercial contracts."