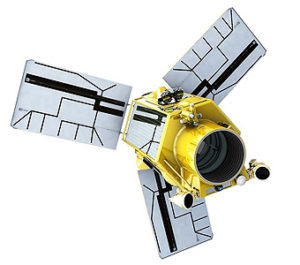 The EgyptSat-A, also known as MisrSat-A, high-resolution Earth observation satellite is due to be launched by Russia in November 2018, just as the threat to Egypt's borders and unrest in the Sinai Peninsula is becoming more acute.
Egyptian security and military forces are under growing pressure to stop insurgent and terrorist incursions across their extensive borders with Libya, and more recently, with Sudan. Egypt's border with Libya alone is approximately 1,200 kilometres in length and Egyptian forces have had to contend with numerous incidences where terrorists in Libya have crossed the border to supply and join Islamic State-affiliated terrorists in the Sinai Peninsula in the east of Egypt.
"The images will show what is happening on the borders very clearly," said Mahmoud Hussein, chairman of the Egyptian National Authority for Remote Sensing and Space Sciences (NARSSS), in an interview with English-language newspaper The Arab Weekly. "This is why these images will be very useful on many counts."
More recently, Egyptian security forces have had to contend with arms, drugs, and human trafficking across its border with Sudan. Utilising the EgyptSat-A high-resolution Earth observation satellite, along with advanced ground-based sensors and aggressive patrolling by security forces, can help mitigate and reduce border incursions and track movements of hostile groups.
"This is a process that requires the utilisation of modern border control equipment," said retired army General Sameh Abu Hashima, also interviewed by The Arab Weekly. "Egypt is in a volatile area and this makes border control a daunting mission."
EgyptSat-A is a dual-use satellite, however, and will also be used by Egyptian authorities for other taskings such as resource management, environmental monitoring, and securing critical infrastructure.
"The satellite has development purposes by locating subterranean water and places that are fit for agriculture," NARSSS' Hussein said. "It will help national agencies better draw up the borders of the various provinces and formulate urban expansion plans."
The main purpose of EgyptSat-A, though, will be to help secure Egypt's borders and assist in dealing with the security situation in the volatile Sinai Peninsula.
"The presence of an advanced reconnaissance satellite will help the security establishment detect such infiltrations easily," said Khaled Okasha, a member of the Supreme Anti-Terrorism Council, an advisory body of the Egyptian presidency, also quoted in The Arab Weekly. "The utilisation of space technology is indispensable if we hope to overcome threats to our security."
EgyptSat-A (MisrSat-A) is Egypt's third Earth observation satellite. The satellite is jointly built by Egypt's National Authority for Remote Sensing and Space Sciences together with RSC Energia in Russia and is estimated to have cost about U.S.$100 million. The imaging payload was developed by OAO Peleng and NIRUP Geoinformatsionnye Sistemy in Belarus.
According to reporting in the Egyptian press, and as reported by SpaceWatch.Global, some of the costs of EgyptSat-A's construction and integration has been defrayed by grants provided by the Chinese government.
The satellite is an improved version of EgyptSat-2 (that cost an estimated U.S.$45 million and failed in orbit in 2015) and is also based on RSC Energia's 559GK bus, which inherits technologies from their USP platform. The satellite features SPD-70 electric engines using Xenon gas. It features improved electro-optical and onboard control systems, high-speed on-board radio link, and solar cells with increased efficiency.
The satellite is planned to be launched on 22 November 2018 from Russia's Baikonur Cosmodrome in Kazakhstan, and subject to a successful launch and on-orbit systems check, should begin operations in January 2019.