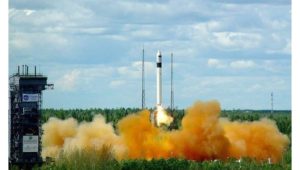 Russia is developing the Rokot-2 launch vehicle with a new control system. The project was first announced by the Khrunichev State Research and Production Space Center in March this year. Import substitution was cited as the reason for creating the new rocket.
Rokot ('Rumble' or 'Boom') is a three-stage small-lift launch vehicle designed on the basis of the UR-100N, also known as RS-18A (an intercontinental ballistic missile). The first launch of the vehicle took place in November 1990. The rocket is capable of launching a payload of up to 2,150 kilograms into a 200 kilometer low Earth orbit. The starting mass of the vehicle is 107.5 tons, the length is 29.15 meters, the maximum diameter is 2.5 meters. The control system was developed by the Ukrainian NPO 'Electropribor' (today – JSC Khartron).
According to Roscosmos, the Khrunichev State Research and Production Space Center is currently working on the new Rokot-2 small-lift launch vehicle. The older version of Rokot is equipped with a Ukrainian-manufactured control system. There are several more launches scheduled before the end of the rocket's utilization. The new modification will to be equipped with the Russian-built control system.
Vyacheslav Rodin, Director of Russian Space Research Institute, academician of astronautics, Honoured Designer of Launch Vehicles of Russia said in an interview for the Sputnik radio station that the Rokot rockets had proved themselves well and that the decision to upgrade them was justified.
'This rocket is made on the basis of an anti-missile, so it turned out to be quite cost-effective. However, it has great popularity in Europe for launching small satellites. But the rocket was developed a long time ago. Modern gyroscopes are smaller and lighter, and the computer technology is more advanced. Therefore, the rocket's modernization is a reasonable thing. Of course, there are a lot of companies today engaged in small-lift launch vehicle development, but the fact is that there are other rockets around, and it stands to reason to upgrade them, especially if a rocket has a great design. Rokot played an important role back in the 1990s helping to achieve parity, for example', Rodin said.