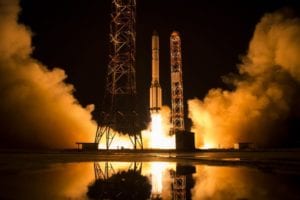 On May 31st, a Proton M / Breeze M launch vehicle successfully injected the Yamal-601 telecommunication satellite into orbit for the Russian satellite operator Gazprom Space Systems.
The Yamal-601 project is part of the Targeted Federal Program for the Development of Television and Radio Broadcasting in the Russian Federation. Yamal-601 is now the most powerful communication satellite in the Russian satellite constellation.
Liftoff and flight of the launch vehicle and upper stage were completed with no issues. The spacecraft separated from the upper stage at the designated time – approximately 9 hours after liftoff. The launch mass of the spacecraft that was manufactured by the French division of Thales Alenia Space (TASF), was over five tonnes.
Yamal-601 will replace the Yamal-202 satellite in orbit at 49 degrees East and provide C-band fixed-line communication and data services for a large part of Russia, as well as the CIS, Europe, the Middle East and Southeast Asia. In addition, Yamal-601 will provide users in Russia with Ka-band communication services and high-speed Internet access.
"The launch of the Yamal-601 satellite exemplifies yet another constructive result of our cooperation with Gazprom Space Systems. We are prepared to launch additional spacecraft using Proton and Angara rockets to expand satellite communication in Russia. We plan on launching at least five more Proton rockets with Federal and Commercial payloads this year," said Aleksei Varochko, Director General of the Khrunichev Space Center.
The collaborative relationship between Khrunichev and Gazprom Space Systems began over 20 years ago. The Proton launch vehicle has been used to launch seven Yamal spacecraft. The first of these launches took place September 6, 1999. Yamal-601, which was delivered to orbit by a Proton vehicle, is the eighth spacecraft in this constellation.
On February 25, 2015, Khrunichev Space Center and Gazprom Space Systems signed a Strategic Partnership Agreement as well as a contract for the use of a Proton vehicle to launch the Yamal-601 communication satellite. This was the fourth contract signed directly between Khrunichev Center and Gazprom Space Systems as part of the collaboration to deploy the Yamal satellite constellation.