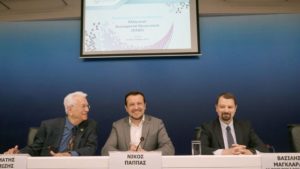 The French national space agency, the Centre national d'études spatiales (CNES), signed a cooperation agreement with the Hellenic Space Agency (HAS), the national space agency of Greece, that covers scientific exchanges and national and international space collaboration.
The agreement, signed 2 August 2018 in Athens, focuses on collaboration in space sciences and space education, Earth observation, telecommunication satellites, microsatellites, applications, R&T and international regulation. It was signed by Jean-Yves Le Gall, President of CNES (the French space agency), and Christodoulos Protopapas, Chairman of the Hellenic Space Agency (HSA), Planned collaborative activities actions include the exchange of scientists and other personnel, the joint organization of space events and seminars, as well as cooperation on national and international space programmes.
"The collaboration of the Hellenic Space Agency with a leading agency in the space field creates new prospects for both the Greek scientific community and the industry of the Space sector as well as for the Greek society," commented Nikos Pappas, Greek Minister for Digital Policy, Telecommunications and Media, in a written statement. "Earth observation, satellite telecommunication, microsatellites, space research and technology, etc., will be the center of the cooperation of the two sides.
"I visited Greece shortly after HSA was founded in March, and I committed shortly thereafter to working with the HSA to promote space and technology and encourage new research activities," Le Gall commented. "CNES is at the heart of this commitment and is fully behind this cooperation, under the umbrella of ESA and within a bilateral framework in place for several years, and will lend its support for actions to strengthen the contribution of Greece's institutional and industrial space players to European space activities."
"It was thanks to the political vision of General de Gaulle that CNES was founded. And without CNES, Europe wouldn't have independent access to space or a presence in space today. For this historic reason, we wanted our first cooperation agreement to be with CNES. And that's why I'd like to thank Jean-Yves Le Gall in particular for his immediate response to our proposition" Protopapas said. "Signing this cooperation agreement with CNES is a key milestone for us and for the HSA's future. It's hugely important for Greece's space industry, our academic institutions, our future in the world of space and our access to space."