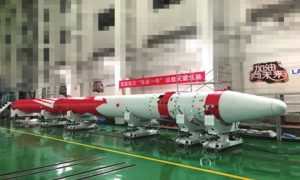 Chinese New Space satellite launch company LandSpace has announced that it intends to carry out the inaugural launch of its Zhuque-1 satellite launch vehicle (SLV) by the end of 2018.
The Zhuque-1 SLV is a three-stage solid-fuel rocket that is 19 metres tall, 1.35 metres in diameter, and weighs 27 metric tons at launch, and has a thrust of 45 metric tons. The maiden launch of Zhuque-1 will see it carry a small remote sensing satellite for China Central Television as part of a show the broadcaster is airing.
It is believed that LandSpace has used modern manufacturing techniques and management methods to reduce the cost and schedule time of the Zhuque-1 assembly compared with SLV's built by Chinese state-owned enterprises.
If the launch of Zhuque-1 goes according to plan and schedule by year's end, it will mark a milestone in the Chinese New Space sector. According to Chinese investment house FutureAerospace, over 60 New Space companies have been formed in China over the past three years.
"They are on a fast development track with fewer management layers," said Huang Zhicheng, a professor at the Beijing Institute of Systems Engineering, in an interview with Chinese news outlet Global Times.
"Compared with other private space companies, LandSpace is more ambitious with a long-term view, although its upcoming launch is aimed at small rockets carrying small satellites," said Lan Tianyi, the founder of Ultimate Blue Nebula Co., a space industry consultancy based in Beijing.
"Relatively simple space tests are easy for these start-ups to reach a milestone in their technology, which can be upgraded generation by generation. For LandSpace, it has a higher starting point, and that is why it is usually likened to China's SpaceX," Lan added.
LandSpace announced in July 2018 that it is designing another launch vehicle, the Zhuque-2, that is powered by methane and liquid oxygen and that the company hopes to launch in 2020.
"Starting with the Zhuque-2, LandSpace will develop a series of rockets with different carrying and propellant abilities, which will supplement the efforts of national players conducting missions in space," said Wei Lai, chief technology officer at LandSpace.
"In the national strategic security sector, we have the ability to offer alternatives for government procurement," Wei added.