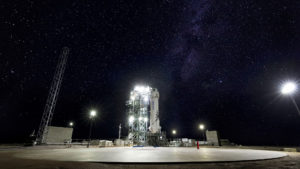 Thailand's mu Space contributed part of the payload lofted by Blue Origin's New Shepard Reusable Launch Vehicle in a successful test of the launch vehicle last week in the U.S. The six-kilogram payload, sent by mu Space, included experiments and technologies provided by mu Space as well as by Thai universities and space agencies.
The mission is considered a success, and it marks a major step forward for Thai space ambitions.
"We're happy to launch our first payload on New Shepard," said mu Space CEO and founder James Yenbamroong, adding that "it marks the first flight of a payload from Asia on a reusable space flight."
The payload included textile materials mu Space plans to use on their space suit and apparel, which will be in development soon. The company also sent a jersey from Thailand's national football team in recognition of the 2018 World Cup and the successful rescue last week of the 13-member football team trapped in a cave in Thailand. It also included a bleeding-prevention device, a carbon nanotube, and a vacuum-sealed food product. These experiments and items came from their project partners Queen Sirikit National Institute of Child Health, Chulalongkorn University, Geo-Informatics and Space Technology Development Agency (GISTDA), King Mongkut's Institute of Technology Ladkrabang, and National Astronomical Research Institute of Thailand (NARIT).
The payload flew on-board Blue Origin's New Shepard space vehicle. This vehicle features vertical takeoff and vertical landing, and it can carry hundreds of pounds of payloads per flight. Ultimately, it will carry six astronauts to altitudes beyond 100 kilometers, the internationally-recognized boundary of space.
Yenbamroong congratulated the mu Space team and its project partners in Thailand who collectively gathered experiments and items for the microgravity flight, saying: "We're going beyond gravity. We have this big ambition to achieve the space dreams of the Thai people."
"Congratulations to mu Space on becoming the first payload from Asia to fly on New Shepard," added Blue Origin Vice President Clay Mowry. "We are honored by the trust you place in Blue Origin to carry your visions to space."
Blue Origin was established by Amazon CEO and founder Jeff Bezos to seed humans into space. In November 2015, Blue Origin's New Shepard rocket became the first to fly to space and return to Earth via vertical landing. Less than two months later, the same rocket launched and landed again, demonstrating reuse – a key enabler to a future in which millions of people are living and working in space.
mu Space, founded in 2017, develops satellite communication technologies to accelerate the adoption of Internet of Things (IoT) devices and smart cities. It plans to launch its own satellite in 2020 using Blue Origin's New Glenn space vehicle.