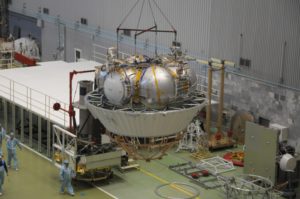 GK Launch Services and Lavochkin Research and Production Association have signed an agreement on the Fregat upper stage production, its adaptation to the launch vehicle and its delivery to the Baikonur cosmodrome. The upper stage will be used in the first commercial mission of GK Launch Services to launch the COS500-1 satellite into space, scheduled for late 2019 or early 2020.
Lavochkin Research and Production Association will do the larger part of the work related to the adaptation of the spacecraft.
Fregat is a universal upper stage used in the Soyuz-2.1a launch vehicle for launching spacecraft into Low Earth orbit, as well as for orientation and stabilization of the orbital module during the powered flight and coast flight phases.
GK Launch Services was established by decision of the Roscosmos State Corporation to commercialize launch services. Today it is a provider of launch services authorized to enter into commercial contracts for the launch of space vehicles using Soyuz-2 rocket family from Russian cosmodromes.
Lavochkin Research and Production Association is a leading enterprise in the rocket and space industry of Russia that designs, produces and tests the most important unmanned spacecraft for basic scientific research.