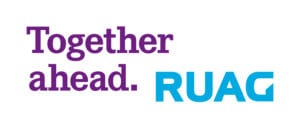 GK Launch Services, an operator of Soyuz-2 commercial launches and RUAG Space, a leading independent space product supplier, have signed a Long-term Purchase Agreement for Payload Adapters and Separation systems for the
 Soyuz-2 launchers
RUAG Space will supply Payload Adapters and Separation systems for the Soyuz-2 family of launchers. The new purchase agreement between GK Launch Services, an operator of Soyuz-2 commercial launches and RUAG Space a leading independent space product supplier, was signed on 11 March 2020. This long-term contract is for multiple launches using a RUAG Space separation system and payload adapter. The products are produced in the RUAG Space facility in Linköping, Sweden.
"We are happy to have reached this agreement. Soyuz is one of the world's most reliable rocket and together with RUAG, the widely acknowledged leader in flight heritage separation systems, we will deliver major products for our customers", said Alexander Serkin, CEO of GK Launch Services.
Separation systems from RUAG ensure that satellite and rocket remain securely attached to one another during the tough journey into space, and then deliver the valuable payloads into orbit with precision. "Around 700 separations have been carried out in orbit using RUAG systems, with a 100 percent success rate," said Peter Guggenbach, Executive Vice President of RUAG Space. "With this contract we further deepen our existing partnership with GK Launch Services and Soyuz."
RUAG Space is a world leader for payload adapters and separation systems used on commercial launch vehicles. RUAG has been developing and producing Payload Adapter Systems for more than three decades.
GK Launch Services is an operator of commercial launches. The company was established by Roscosmos and is authorized to conclude and implement commercial contracts for the launch of spacecraft using Soyuz-2 family launch vehicles from the Russian launch sites.