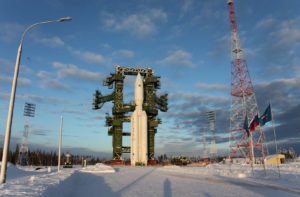 The Polyot Production Association in the city of Omsk will begin mass production of Angara launch vehicles in 2022-2023. Dmitry Rogozin, General Director of the Roscosmos State Corporation, said that the production will be transferred to Omsk, and the Moscow Khrunichev State Research and Production Space Center will have only an engineering and design sections. 'We are closing the program and all the business connected with the Proton rocket, because from 2025 on it will not be able to fly from Baikonur owing to restrictions that were imposed on the use of heptyl-fueled rockets', Rogozin said.
The Angara rocket complex provides for the creation of a whole family of small-lift, medium-lift, and heavy-lift launch vehicles. The rockets will be able to place up to 24.5 tons of payload into a 200-kilometer orbit. The mission of the Polyot Production Association is to develop two main types of the Angara rocket – a universal rocket module, as well as small-lift launch vehicle of the series.
The first Angara-A5 rocket launch was carried out on December 23, 2014 from the Plesetsk cosmodrome. The first launch of the Angara-A5 from the Vostochny launch site is planned to be carried out in 2021.
СохранитьСохранить