Sky and Space Global, the Australian New Space company that intends to provide narrowband satellite communications through its planned 200 Nanosatellite fleet in 2020, has successfully completed proof-of-concept tests using three pilot Nanosatellites in South America.
Partnering with U.S.-based mobile telephone provider GlobalSat Group, Sky and Space Global validated its machine-to-machine (M2M), Internet of Things (IoT), and data transfer capabilities with its three pilot Nanosatellites using GlobalSat's networks in South America. GlobalSat operates in South American countries such as Argentina, Peru, Mexico, and Brazil.
Listed on the Australian Stock Exchange, and with British and Israeli roots, Sky and Space Global is seeking to utilise low-cost, high-impact Nanosatellite technology to gain a slice of market share in what is rapidly becoming a crowded low-Earth orbit satellite communications sector. If its plan to loft 200 Nanosatellites by 2020 into low Earth orbit goes according to plan, then Sky and Space Global will have a head start on many of its would-be competitors that are building more and larger constellations of satellites, such as OneWeb.
With its validation tests now successfully completed, Sky and Space Global is now in negotiations with GlobalSat Group to strike a deal for the mobile telephone company to use the Nanosatellite fleet to bridge the digital divide in South America.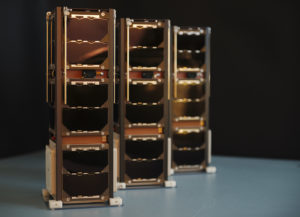 "We are pleased that the commercial testing with Globalsat was a great success and excited that we are now actively progressing commercial discussions. Our successful test was the world's first operation using a nanosatellite for communication purposes in the American continent, and we are certain many more will follow," said Meir Moalem, the Chief Executive Officer of Sky and Space Global.
"The tests with the 3-Diamond nano-satellites were widely successful. We believe that when the Sky and Space 200-satellite constellation is complete and operational it will be a game-changing technology that can transform narrowband satellite communications. Globalsat is ready to advance our relationship with SAS to agree on a commercial arrangement, which will see us deliver mobile connectivity and IoT services to Latin and Central America," added J. Alberto Palacios, the Chief Executive Officer of GlobalSat Group.