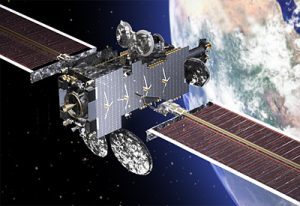 Lockheed Martin, the giant U.S. aerospace company, has completed the assembly of the ARABSAT-6A communications satellite, and has shipped it to the Lockheed Martin facilities in Sunnyvale, California, for final tests and preparations prior to its launch on board a SpaceX Falcon Heavy launch vehicle later this year.
Once successfully launched into geostationary orbit (GEO) at 36,000 kilometers altitude above the Earth's equator, ARABSAT-6A will provide satellite television and radio broadcasts, broadband internet services, and mobile telephone coverage across the Middle East, Africa, and Europe.
ARABSAT-6A is the second of two satellites in the ARABSAT-6G series, the first being the HellasSat-4/SaudiGeoSat-1 communications satellite that was shipped to Lockheed Martin's Sunnyvale facilities in November 2017 for testing and preflight preparations, and is now awaiting launch. Both of these new Arabsat satellites are based on Lockheed's modernised and updated LM-2100 satellite bus.
"This new satellite will strengthen our existing fleet that offers millions of people mobile and landline communications service across the region," said Khalid Balkheyour, the Chief Executive Officer of Arabsat. "We look forward to completing and launching this state-of-the-art new satellite to offer even greater internet, television, and radio services to our customers."
While at Lockheed's Sunnyvale satellite testing facility, ARABSAT-6A will be subject to a battery of tests to ensure that the satellite will be able to survive the harsh space environment, to include extremely loud sounds and temperatures, vibration tests, and will also be placed in a vacuum chamber that will simulate the vacuum of space.
"ARABSAT-6A and its companion satellite, HellasSat 4/SaudiGeoSat-1, are the most advanced commercial communications satellites we've ever built," said Lisa Callahan, vice president and general manager of Commercial Civil Space for Lockheed Martin. "The modernised LM 2100 that these satellites are built on is packed with new innovations, including solar arrays that are 30 percent lighter and 50 percent more powerful, upgraded flight software, and more efficient propulsion capabilities resulting in longer maneuver life. Those improvements will deliver greater precision, performance, and value in orbit."
As of this reporting, a launch date for ARABSAT-6A on the SpaceX Falcon Heavy has not been set.