Thuraya the leading provider of mobile satellite communications has received yet another accolade this year. Presented by Telecom Review during its ninth annual – It's All About Smart Networking Summit in Dubai, the Satellite Operator of the Year Award was accepted by Ahmed Al Shamsi, Thuraya's acting Chief Executive Officer.
Winning the award for the third time and for the second consecutive year, Thuraya received the largest number of votes from an independent panel of experienced industry veterans. The jury included representatives from the carrier arena, telecom/ICT vendor arena and the ICT investment-banking arena.
This win concludes Thuraya's successful performance over the past year that also saw us winning the "Top Land Mobility Satcom Innovation" category in the Mobile Satellite Users Association's (MSUA) 2017 Awards and the MSS Operator of the Year in SatellitePro's Selevision Awards. Ahmed Al Shamsi, said: "These are momentous times for us at Thuraya as we have managed to secure multiple wins this year.  In our pursuit of maintaining the status of being the most innovative satellite operator, we will continue bringing greater choice and flexibility to users and as we embark on 2018, we are optimistic and excited about what's to come for Thura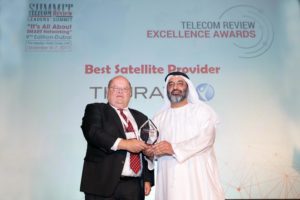 ya."
Chief Executive Officer of Trace Media International, Toni Eid noted: "We are proud to present Thuraya with this well-deserved award. It is great to see just how the company has evolved this year and we are looking forward to bear witness to its upcoming and exciting new achievements." Commenting on the win, Jeff Seal, Managing Partner of Telecom Review and Editor-in-Chief of Telecom Review North America noted: "Once again Thuraya has proven that it's a pioneer in the Satcom industry ."
This year, Thuraya unveiled a number of new products and services including Thuraya SeaStar – a circuit switched voice terminal designed to bring advanced 'at sea' communications to small-scale operators; Thuraya WE, the world's first dual-mode Satellite and LTE hotspot; Thuraya Aero – an airborne data-sharing platform that provides in-flight connectivity on board small to medium sized aircrafts; Thuraya IP M2M – an advanced telemetry solution for IoT connectivity in remote locations that lie beyond-line-of-sight and beyond the range of terrestrial networks; and Thuraya Talk – a first-of-its-kind Voice over IP (VoIP) service allowing customers a convenient way to stay connected and enhance communications for personal and professional use.
New agreements and partnerships established this year include an alliance with Gulfsat to launch first-time data services in Kuwait; a partnership with ELSE to expand IoT communication services and lay the foundation for future 'new wave' plans and an MoU with Huawei to further public safety ecosystems.
Original published at: https://spacewatch.global/2017/12/uaes-thuraya-wins-telecom-reviews-satellite-operator-year-award/