Wow. It's been a busy year at SpaceWatch Middle East, but it's also been a very rewarding one as the team has seen the platform grow form literally nothing to a publication that has earned a following that we could never have dreamed of and interest from all over the world.
To us, space and the impact that is has on humanity, is what drives us forward. We are coming closer than ever to space, making it part of our life on Earth. Space influences the geopolitics of our world. It is present in our daily lives, whether we realise this or not. It also holds our future. Our content – independent and all-embracing – is what has made SpaceWatch Middle East so unique and we are looking forward to delivering more of the same in the coming year.
You, our Readers are the foundation of our magazine, and we love to hear your opinions on our content so please do keep your emails coming. This magazine is a collaborative effort, so if there is something that you think we should be covering, let us know.
Over the past year, the Middle East region has made it very clear that space is going to form a big part of the region's future. Countries such as Israel, Iran, Qatar, Saudi Arabia, Turkey and United Arab Emirates are all going to be very active in space. Some may be launching communications satellites to deliver essential services such as the telecommunications, Internet and broadcast services. Others are
looking at exploring other planets. Take, for example, the ambitious UAE activities. Firstly, there's the Hope Mission which seeks to explore Mars. Then there is the announcement of the coordination of human settlements on Mars by 2117; the UAE Astronaut programme that seeks 4 astronauts to go to the International Space Station within 5 years; YahSat's upcoming AlYah-3 spacecraft and the first UAE cubesat, Nayif-1. All these activities are coordinated under the new UAE Space Policy. These are very different objectives, but all highly significant for the UAE's position in the space race and to stimulate and inspire the youth to be part of it. Finally it is worth to mention that UAE's MBRSC was awarded to host the International Astronautical Congress 2020 in Dubai, the first IAC in the arab world.
And it's not just the Middle East. In Africa, a region that SpaceWatch has also broadened its focus to in 2017, there have been huge developments in space and many emerging countries that are engaged in or planning space activities such as Ghana, Ethiopia, Nigeria and South Africa. Our post about the Ethiopian plans to go to space gained over 9,000 views – the most viewed post in 2017.
This year, we have partnered with and carried analysis from two standout sources: The Precis and the Secure World Foundation. The Secure World Foundation aims to work with governments, industry, international organisations, and civil society to develop and promote ideas and actions to achieve the secure, sustainable, and peaceful uses of outer space benefiting Earth and all its peoples. The Précis is a quarterly space law and policy report produced by Space Law & Policy Solutions, run by the prominent space lawyer and friend of SpaceWatch Middle East, Michael J. Listner. We look forward to including more of their expert analysis and others on the many aspects of the space environment as we go forward.
As the magazine has grown we have also welcomed further extremely valuable analytical contributions and we would like to thank Dr. Olga Stelmakh-Drescher, Natalie Fuchs, Vasilis Zervos (DPhil), Dr Michael Simpson for their time and efforts. We look forward to working with you all again in 2018.
2017 was also a year of anniversaries. We saw the Cassini spacecraft, in its twentieth year, take its death plunge into Saturn's rings. After 13 years circling the mysterious planet and its moons the spacecraft has given the most comprehensive imagery and data ever seen of Saturn. Another historic anniversary occurred in July with the 48th anniversary of the Apollo 11 Moon landings. Though the 48th anniversary may seem nothing special, it marks just two more years until the 50 year that first humans set foot on the moon. Sadly, we also lost the last man on the moon, Eugene Cernan, this spring, along with other pioneering astronauts.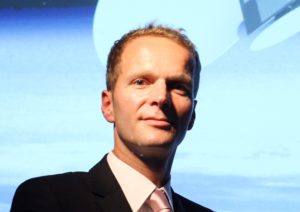 With great pride, we conducted a plethora of fascinating interviews – 37 in total in 2017 – with space industry leaders, both established and emerging, across many different sectors. Our top interviews included leaders such as Sky and Space Globals (SAS) CEO Meir Molam, Eutelsats Simon Gray, Swiss Re's Jan Schmidt and also leaders of organisations such as the Swiss Space Office Johann Richard and we were very grateful to speak twice with UNOOSA Director General Simonetta DiPippo.
Our Themed Weeks were a big hit. We have run two to date, on Space Resources and also the Chinese Silk Road initiative, One Belt One Road. Both were extremely popular with contributions from global top experts on those topics. We will not stop here. We have more in the pipeline, including weeks covering exciting and diverse subjects such as space archaeology and space insurance.
This year, we have also seen the power of satellite imagery demonstrated at the emergency, disaster and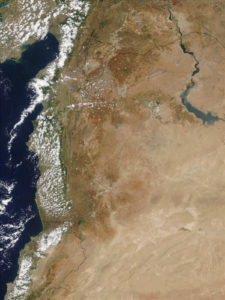 humanitarian response level. In Syria, satellite imagery from NASA's Terra satellite showed the extent of the damage after the Zeyzoun Dam burst in northern Syria. It also showed the terrible human suffering that has been inflicted upon the Syrian people with schools, hospitals and homes clearly destroyed. The detailed imagery captured by satellites has been invaluable to humanitarian efforts in the aftermath of both natural and manmade disasters all over the world, enabling them to deliver critical communications, medical help, food, shelter and aid to those affected. Satellite imagery has also been invaluable in terms of meteorology and the prediction of weather events, enabling people to evacuate from affected areas in advance of hurricanes. It has also helped emergency response teams to track the course of wildfires in order to save lives.
At SpaceWatch Middle East, the sheer pace of development has to be the greatest and most notable hot topic of 2017:
We have seen rapid development of space activities in the Middle East region with emerging space actors as well as advanced missions taking place.
2017 was also the year that New Space became an established art of space vocabulary and we have tracked the progress of New Space companies such as Clyde Space, Astroscale, Else, SpaceIL, TeamIndus, PTScientists, Sky and Space Global and many, many more.
We have seen private and governmental institutions making bids to return to the Moon. There is very real talk of the establishment of a Moon Village Concept by ESA and Donald Trump has set the wheels in motion to put the United States firmly back on the Moon after nearly half a century. The Google XPrize has also seen an explosion of private companies competing to send their own spacecraft to the Moon. In addition, we have also seen the emergence of For All Moonkind – an initiative that seeks to protect historic sites on other planets for the benefit of humanity.
However, if we are to make space the next frontier for humanity, one of the biggest challenges facing the industry at the moment has to be Space Situational Awareness. In the last few years in particular, companies have emerged that intend to launch mega constellations – hundreds, even thousands of small satellites into LEO, especially. With already crowded orbits around the planet, a solution must be found to tackle the issue of space debris and also to coordinate properly these mega constellations that could pose a threat. We were lucky enough to tackle this subject earlier in 2017 with Moriba Jah of the University of Texas who has proposed a space taxonomy to effectively label space junk so that we know exactly what is up there, where it is and what threat it could carry. The industry needs to be responsible moving forward to prevent potential on-orbit catastrophes.
The other burning question is how to tackle space governance. This is a hugely complex matter and, though there are a number of international treaties in place, more must be done as humanity extends into space. The UN plays a key role, but other bodies play an important part as well and it is vital that a framework that protects and enables space to be a safe and sustainable environment is put into place.
As we know here on Earth the issue of cyber and cyber security is becoming an important part of our security. This is only going to become increasingly important as we go forward and more threats appear. This is an integral topic that we have covered in SpaceWatch Middle East as countries seek to protect themselves from the harm that cyber threats bring.
And last but not least, we have tracked the ever evolving launcher industry. We have sought to cover the developments in this hugely exciting market, form the dominance of SpaceX to the new kids on the block such as Rocket Labs. It's been an amazing year for the launch market and it will be fascinating to see which new entrants will be successful in various categories of launch vehicle.
One ongoing element of our activities will be the coverage of global space and cyber events. In the current year we attended or covered events such as the GLEX in Beijing, IAC in Adelaide, Global Space Congress in Abu Dhabi, CabSat in Dubai, GeoInt and Intergeo in Berlin, UNOOSA High Level Forum and Annual Meeting of Future Councils at WEF in Dubai, SpaceTech Expo in Bremen and finally the Swiss Space Days in Lausanne. Next year we will continue the coverage of major events in the industry, but we would also like to hear your opinions on these and other events that we may not have on our radar. If you would like us to cover these for you, let us know.
Final
ly, we want to continue to deliver our content together with you! Please share your thoughts with us anytime at [email protected] .
We wish you and your families a Happy New Year filled with joy, success and curiosity!
Your SpaceWatch.Global Editorial Team!
Ad astra!