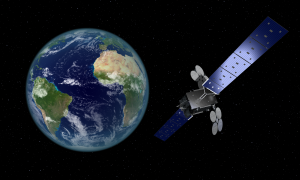 Yahsat, the UAE based satellite operator, has announced the successful trial of a 50Mbps in-flight connection that will change the way passengers experience air travel across the world. The result of a unique partnership between Yahsat, du, Etihad Airways Engineering, Hughes Network Systems and Carlisle Interconnect, the high-speed broadband offering will be available for airlines to offer its passengers within the next year.
Using Yahsat's Al Yah 2 satellite, and the latest generation Ka-band technology, the test took place in Abu Dhabi, simulating the environment found on an Airbus A320 aircraft. This new level of performance for in-flight connectivity (IFC) will mean passengers have an in-flight browsing experience similar to the service available in their home or office, including access to HD streaming content, social media, online shopping and the ability to connect with friends and family via messaging apps.
Following this successful test, selected guests will be invited to experience the ultra- fast connectivity for themselves, onboard an Etihad Airways Flying Testbed Airbus A320 aircraft at the Dubai Airshow taking place from November 12-16, 2017. Subsequently, Yahsat and its partners plan to execute the key next steps over the coming year to rollout the solution to commercial airliners across the Middle East, and beyond.
Masood M. Sharif Mahmood, Chief Executive Officer of Yahsat said, "We are incredibly proud to have brought together leading Emirati and global companies to achieve this milestone. It paves the way for Yahsat to bring further breakthrough technologies to the markets and segments it serves, adding another key pillar to Yahsat's portfolio of market leading services and solutions. We look forward to showcasing the technology at the Dubai Airshow, and ultimately transforming the in-flight connectivity experience for passengers"
Abdul Khaliq Saeed, Chief Executive Officer, Etihad Airways Engineering, said, "This is a first for commercial aviation and Etihad Airways Engineering is delighted to be part of this exciting and challenging project. Innovation is part of the DNA here in the UAE, with local companies, always looking to push the boundaries for the benefit of consumers. Our country is known as an incubator to generate new commercial ideas, and this latest initiative with Yahsat and du will ensure today's travellers will enjoy the high-speed connectivity they already experience on the ground."
Saleem Al Blooshi, Chief Infrastructure Officer at du said "Our partnership with Yahsat is a testament to our commitment towards adding life to life through innovative new technologies, and we are pleased to be a part of such a monumental step in aviation history. This partnership will allow us to establish the necessary infrastructure needed to keep passengers comfortably connected in the air through the latest and most advanced in-flight connectivity. We believe that together we will set the benchmark for high speed WiFi in the air and we look forward to enhancing our customer experiences like never before. Furthermore, we are introducing our state of the art Data Analytics as well as our Backend systems to this innovative In-Flight WiFi which enables the Airline Industry to use such analytics of the user behaviour to enhance even further the customer experiences on board airplanes. The Dubai Airshow 2017, is the ideal platform for us to showcase such products and introduce customers to the new reality of connected flying."
Original published at: https://spacewatch.global/2017/11/uae-companies-achieve-regional-first-flight-connectivity-test-50-mbps/