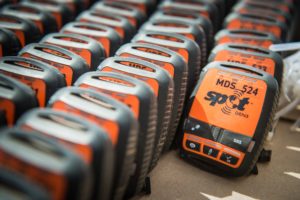 Globalstar Europe Satellite Services Ltd., a leader in satellite messaging and emergency notification technologies, announced today that all competitors in this year's MARATHON DES SABLES (MDS) will carry a small, lightweight, SPOT Gen3 safety device on their backpack. The World's toughest running race will equip 1,200 competitors, 90 security and medical vehicles, two helicopters and a camel with SPOT Gen3 satellite trackers.
The SPOT Gen3 allows race organisers, support teams and supporters to precisely track each competitor's location and its one-touch S.O.S. button allows competitors to request help at any time. The service is provided by Globalstar's valued added reseller (VAR) partner and geolocation specialist WAA Tracking, and includes a geo-fencing feature that alerts organisers when a runner is straying off-course as they cross the vast Sahara Desert.
For the first time, WAA Tracking is making it possible for family and supporters to follow the race live and track the performances of chosen competitors. Viewers can see competitors' rankings on each leg of the race. They are also notified by email when their chosen competitors approach the end of each stage so they can watch them cross the line live on the webcam.
The MDS, taking place from April 7th to 17 th 2017, is a gruelling, seven day, 250km extreme foot race in high temperatures through Morocco. Competitors carry the bare minimum, including bedding and food. Thanks to SPOT's accuracy, in last year's race, the MDS team was able to precisely locate 22 competitors in distress and quickly dispatch rescue personnel to where it was needed. All race marshals also carry the small, rugged SPOT devices, and they will also be attached to security and medical vehicles, helicopters and even a camel.
Patrick Bauer, CEO and Founder of the MARATHON DES SABLES, commented, "This is the third year we have used SPOT Gen3 and WAA Tracking to ensure the safety of all our competitors and support teams. SPOT's small size and reliability makes it a critical part of the race's success by ensuring we can get help to any competitor within minutes and reduces the risk of them dropping out."
"Every year, we work with WAA to enhance the tracking service provided to MDS organisers and supporters," said Gary King, SPOT Regional Sales Manager, Globalstar. "Together our aim is to provide accurate GPS locations in near real time, keep competitors safe and enable speedy rescues when required."
Original published at: https://spacewatch.global/2017/04/marathon-des-sables-2017/