Specialising in High-tech Insurance, elseco was established in 2006. Today, elseco is the largest space insurance player in the world with a capacity of more than USD200m (More than twice its closest competitor). The company adopts an intelligent approach to risk management, pioneering market risk analysis and sophisticated 'made for purpose' underwriting products. Though built on traditional methodologies, the company is driven by an entrepreneurial mind-set, enabling elseco to create a diversified, high-tech, specialty insurance platform.

The company is also initiator of the World Space Risk Forum. Torsten Kriening speaks to Laurent Lemaire, Chairman and CEO and Ali Asghar, COO of elseco to find out more about this fascinating – and critical – part of the space sector.
This is part 2 of the interview – part 1 was published at: https://spacewatch.global/2017/03/elseco-part-1/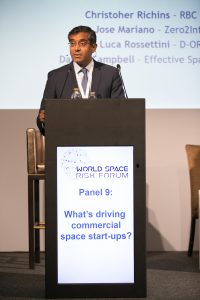 How do you approach the NewSpace companies worldwide? Do you see this as hype?
In any sector, you have the newcomers and you have the incumbents and, at a certain point, you have a mix. In terms of NewSpace, we struggle a bit to quantify it. If you are in the US, NewSpace is companies such as RocketLabs etc. However, we think that NewSpace is everywhere. To an extent it is the Hope Probe from the UAE. There are initiatives in South America and in Russia and China. There are a lot of versions of it. From my perspective, on the risk side, things are changing. Governments want to look at new technology. Private entities often come across as being ego-centric where someone wants to be the first in the world to do something. For governments, they want their population to look up to the skies and feel proud that they have a presence in space. All of that is changing the dynamic. The pace of things is coming from the private sector. However, you can also see that the non-private sector has an influence. Even an established player such as Lockheed Martin is pushing themselves into Quantum satellites that use lasers in order to try to disrupt. Some of these new ideas will work.  We think this is true for all sectors. This is shaping our world, which I think is good.
The thing we would like to stress is that, as an entity, we welcome any changes. The worst thing for us is a world where nothing changes – where we don't have to think. New challenges and unknowns are welcome. We like to bring value to the market. Our team all want to make a difference in life and we think the more things are changing the more they can make a difference by having a viewpoint and drive change.
When you get new technology, such as the capsule that was used to deploy the 10 Iridium NEXT satellites, we have to get to grips with the risk that entails. OneWeb will launch 32 satellites in one go, but the mechanics of launching 10 satellites are the same as launching 32, so you can feel more comfortable with this. From 10 you now go to 32. It's a similar methodology. So you can see the technology evolving. Every time we get a technical briefing, insurers review how the technology is evolving and what is flight tested and space tested etc. The industry brings the insurers along for the ride. These NewSpace players are very good at being candid about their technology.
What is the most challenging aspect of your business at the moment?
To me, the change of risk and the change in the industry is good. If everything was very still, this would play into our competitors' hands as they are also used to dealing with the same old scenarios. However, working within an entity that is a more entrepreneurial and proactive helps us. This is good for our team – this is what they like. If it was boring, my guys wouldn't like working here.
The main challenge for us today is undoubtedly the geopolitical and economical environment. I do believe that there will be changes in the next few months and I don't think those changes are going to be nice. Some could argue that these changes are necessary and the sooner they happen the better. But those changes are the consequences of how the world has been run since the early 70s.   I am worried about the financial system much more than in 2006/7/8. Our company was created in 2006 with the financial crisis in mind. I thought perhaps the bubble has burst but actually, I realised I was wrong and the bubble didn't burst, but kept growing. That is definitely a worry. I think that everything else is more or less a consequence of that. As an immediate consequence for the insurance industry, increased availability of capital has had an impact on insurance rates.  The difference between what the world is and what we want the world to be is very big and the gap is getting wider and wider. The debt of many countries is increasing astronomically. That is a worry.
Do you have any engagement with the Mars Mission?
Not at this stage. We are in constant talks with MBRSC. It is rather too early for us to be involved, although they have selected Mitsubishi as their launch service provider.
As we go to explore different planets, how does that affect risk and insurance premiums?
We have done some deep space exploration covers in the past although we don't have any of that type of cover right now. Once a client buys insurance, we don't want them to behave differently with their risk. And I think that is a theme that is very common in insurance. We must ensure that we help smooth the results and the financial position of the company, but we don't want him to behave in an irresponsible manner. There have been some Mars missions where the client was more interested in doing some R&D than really getting to Mars. So we had to make sure the cover was right. That said, we will go where the industry goes.
If you look at the overall picture, insurance has been an enabler for many industries to develop. Can you imagine the aviation business without insurance? We think it's the same for space. I think that, thanks to the insurers, private space has been able to develop. Insurers are not always entrepreneurial so they struggle with initial risks but they do jump in strongly in enabling entire parts of the community to develop.
We think insurers will be hard pressed to insure the first mission to the Moon but once Moon Express and Blue Origin, for example, start sending missions, a rhythm will be built up and the insurance industry can then step in. However, one can always find ways – you can partially insure a mission for example. If you look at Hope, you could insure the launch or the ride to a certain orbit. That is very much in line with what we have been doing. And in terms of the final part of the mission, where there is not the experience, you can place parameters. There is probably a big part of the risk that we can cover. The more it happens, the more you have experience and the easier it is for insurers to act. At elseco, we have the edge because we are a smaller entity and we are always keen to look at business plans and figure out how we can help. More established insurance companies have a different approach and tend to play it safe and will only insure tried and tested models – repetition. You need some guys to bring the industry to the next level.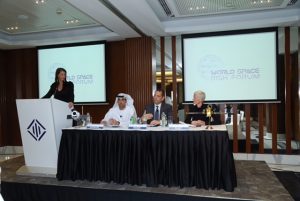 What can we expect for the future of World Space Risk Forum?
The whole idea of the World Space Risk Forum is to explore the space sector in greater detail. This is a fantastic community that is happy to gather and discuss the direction that the industry is heading in. Our goal is always to fine-tune and improve our service. We need to look at the value we can bring to the market. The beauty of the World Space Risk Forum is that you get all the key industry people in the same place. That is priceless. It's a good way to do a lot of face-to -face meetings and to brainstorm.
This industry is changing fast. We need to look at what's changing, to bring new people from outside and find solutions for the new landscape. As a Forum, we need to make sure we get more people involved, better speakers and to create more value. We want the Forum to be like a kind of university to operators and manufacturers so that, in a very short space of time, they can see what people are worried about and what can be done to mitigate risks so that they can attract more capital. If you know where the risks are, you can distribute it. That's the main aim of the forum.
Another risk for the space industry is the risk of spectrum. On one hand, you have the satellite operators and on the other hand the mobile operators and satellite operators believe that the mobile operators are encroaching on the satellite operators' spectrum. That is an issue which will need to be addressed and this was one of the topics discussed during this year's World Space Risk Forum, which was held in November 2016 in Dubai.
What excites you about space?
It's high tech, it's the unknown, it's adventurous. I think that is probably what excites most of us. We think we know a bit about the Earth but space is so massive, it makes us realise how small we are. Our timescale is insignificant in comparison with the timescale of space. We are a tiny part and that puts us back into our right place, which is nothing.
I think there is a very philosophical side to space and I think that makes us tick to some extent. We have all seen Star Wars and Star Trek and this has made us think about the future. We don't know what's out there but the industry is very optimistic and passionate. Human civilisation imagines things. The question is how will they execute it? We are at a stage of technological development where we can actually realise what was once thought of as science fiction.
We are at a very precarious time in our world history, but the technology is there to enable these missions to Mars and other planets. The unknown aspect is very exciting and to be part of this and to be aware of it, is incredible.
SpaceWatch Middle East thanks Laurent Lemaire and Ali Asghar of elseco for the interview and the fascinating view into their business.  
Original published at: https://spacewatch.global/2017/03/elseco-part-2/