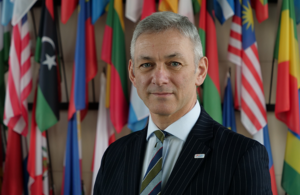 London, 8 June 2023.- Ian Annett, Deputy Chief Executive Officer at the UK Space Agency, has announced he will leave his role and the Civil Service at the end of August, after more than three and a half years leading the delivery of UK national civil space programmes. 
Annett first joined the UK Space Agency in January 2020 as Deputy CEO. He currently oversees the Agency's three Missions and Capabilities directorates for Launch, Discovery and Sustainability and Earth Observation and Low Earth Orbit. Alongside this, he is the Head of Profession for Project and Programme Delivery and oversees the Office of the Chief Engineer and the orbital regulations office, as well as chairing the UK Space Agency Delivery Board and sitting as a member of the Steering Board. 
Through his time at the UK Space Agency Annett has supported the Agency Women's Network, as well as undergraduate and postgraduate space challenges, internships and school-based projects. He led the national programme to bring the first launch into space from European soil, turned new legislation into tangible reality, and worked to secure the largest budget award for the UK Space Agency, of £1.8 billion over three years. 
Whilst Annett has been part of the UK Space Agency the annual income has grown from £1 billion to £17.5 billion, resulting in the sector growing from 5,000 to almost 49,000 employees. 
"It has been an incredible experience at the UK Space Agency but now is the right time for me to move on. It has been immensely rewarding to be at the heart of connecting the public and private sector in this unique position, bringing my experience of delivery of civil, military and commercial space capability," said Ian Annett. "I leave in the knowledge that the Agency continues to grow in stature, with strong leadership, delivery capability and a portfolio of programmes that will benefit the UK's thriving space sector, our planet and its people."
Recruitment for Annett's successor will begin in due course.