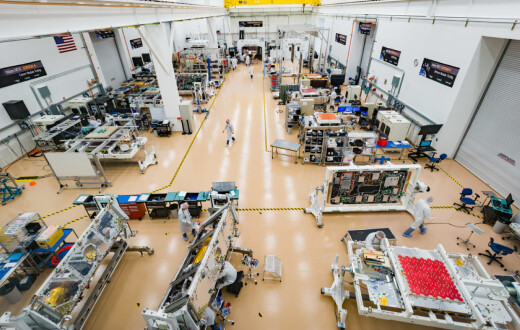 Ibadan, 5 June 2023. – Azista BST Aerospace will launch its first satellite ABA First Runner (AFR), aboard a SpaceX Falcon 9 rocket on 12th June 2023 as part of the Transporter 8 Mission. This follows from the Company's creation of a 50,000-square-foot facility capable of supporting the production of two satellites per week.
The first satellite, AFR, is an 80kg satellite on a modular bus platform and hosts a wide-swath optical remote sensing payload. The satellite also enjoys both panchromatic and multispectral imaging capabilities. As a result, AFR represents one of the first satellites of its size and performance from the private space industry in India, capable of supporting various critical applications for civilian and defense purposes.
Speaking on this, the Managing Director, Srinivas Reddy Male, said, "AFR's launch marks an exciting beginning to support the realization of satellite constellations for various applications. Our factory in Ahmedabad is already geared up to produce ten of these satellites in 2024." Male also added, "We are grateful for the support from the Indian Space Research Organisation (ISRO), the Indian National Space Authorization Center (INSPACe), and the Indian Space Association (ISpA) to help us achieve this major milestone."
Furthermore, Director Sunil Indurti invited researchers to collaborate on various geospatial applications. "Azista BST Aerospace invites researchers and organizations interested in exploring the use of fresh satellite data for various geospatial applications to get in touch with us and take advantage of this exciting opportunity."
The Company is looking to establish space heritage and solidify vertically integrated production capabilities from India as it intends to launch several satellites within the next 12-24 months.