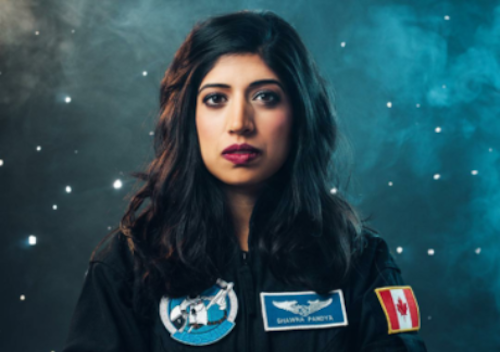 SpaceWatch.Global is pleased to present: The Space Café Podcast #80: Shawna Pandya – Physician, Astronaut Candidate, Martial Artist, and Space Medicine Innovator
Episode 080  features a special guest:  Dr. Shawna Pandya

In this episode, join Dr. Shawna Pandya, a physician, citizen-scientist astronaut candidate with Project PoSSUM, martial artist, advanced diver, skydiver, pilot-in-training, and Director of Medical Research at Orbital Assembly Construction, as she delves into her multi-faceted career, her passion for space medicine, and her vision for the future of space exploration.
 Key topics:
🔹 The significance of space medicine and its role in long-term space missions
🔹 The intersection of extreme environment medicine and space medicine
🔹 The importance of holistic physical and mental preparation for space travel
🔹 The future of space exploration and its implications for healthcare
 3 memorable moments to share:
➡️ We need to think about not just the medicine but also the psychology, the human factors, the human dynamics of long duration space flight.
➡️ The most rewarding part of training for space is the journey itself, the resilience, the grit, the determination that it instills in you.
➡️ It's about archiving that mission success, whether that's a successful CPR in a critical care situation on Earth or whether that's landing on Mars.
 Sources and links:
🔹 Shawna Pandya's Website: https://www.shawnapandya.com/
🔹 Project PoSSUM: https://projectpossum.org/
🔹 Orbital Assembly Construction: https://orbitalassembly.com/
🔹 Savage Garden's "To the Moon and Back" Song: https://www.youtube.com/watch?v=HCm6gRHINqA
🔹 Muse's "Starlight" Song: https://www.youtube.com/watch?v=Pgum6OT_VH8
🔹 Linkin Park's "Reanimation" Album: https://www.youtube.com/watch?v=v2H4l9RpkwM
Please visit us at SpaceWatch.Global, subscribe to our newsletters. Follow us on LinkedIn and Twitter!