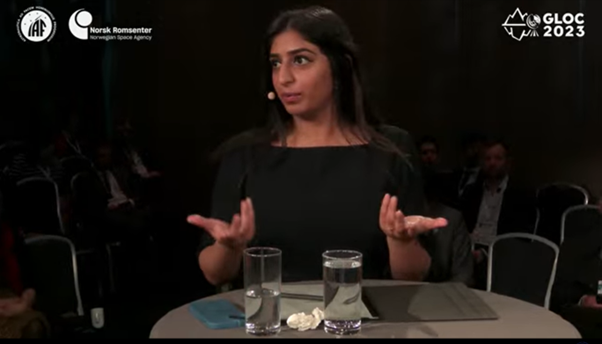 London, 24 May 2023.- The Global Space Conference On Climate Change (GLOC) 2023 has launched into its second day with a variety of plenary sessions, highlight lectures and GNF discussions. Today's topics have included carbon footprints, methane, and generational exchanges focusing on the need for communication and involving youth in discussions on climate.
The day began with a highlight lecture 'Earth Observation for Building a climate ready society' presented by Richard Spinrad, the Under Secretary of Commerce for Oceans and Atmosphere Administrator at the National Oceanic and Atmospheric Administration (NOAA).
Following this was a GNF discussion on the 'Carbon Footprint of Monitoring Climate Change From Space'. As part of this discussion Sabrina Alam, head of space sustainability and ESG programme manager at SES highlighted that "when we talk about sustainability it has to link to business objectives. It needs to make sense for your company". She goes on to reiterate that when deciding which companies to work with sustainability is increasingly becoming a factor in that decision-making process.
The next discussion was focused on 'Global Methane observing system'. This session kicked off with Steven Hamburg, Executive Manger at MethaneSST LLC, stating why methane is important to consider in the overall discussion of climate change. "Methane is 120 times more powerful as a greenhouse gas than co2". Methane however it is still important to consider as "methane is responsible for approximately 30% of the warming we are currently facing".
Mackenzie Huffman, Director for Strategy and Partnerships at Carbon Mapper continued the discussion by saying that a variety of monitoring on global, national and smaller scale e.g. farmers is required. Satellites are not the only data sources – ground-based and airborne systems also play an important role in understanding where methane emissions come from. Huffman goes on to say that there is a "large gap in trust in the data, capacity to understand the data, and resources to scale systems we are building today." Jean-Francois Gautheir, Vice President, Measurements and Strategic Initiatives at GHGSAT goes on to say that "the problem is a lack of trust in satellites, which is alarming." There's a need for advocacy, for the data to be shown to the operators, and for them to have faith in the data.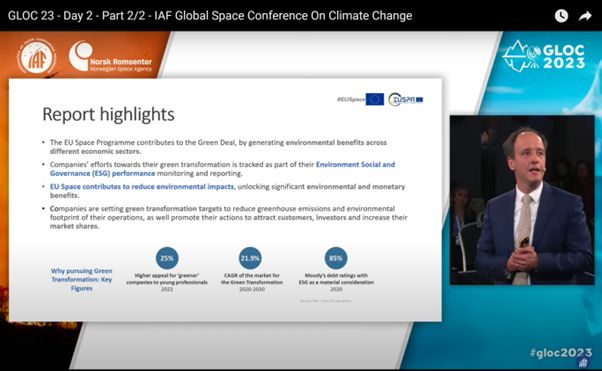 The session concludes with each of the panellists thinking about the realistic outcomes of their work in 20 years. The overall conclusion was one of optimism. Steve said that "we've seen a radical change in the focus and awareness in methane, the space-based capacity is growing." He believes that "we're going to see dramatic reductions- I am an optimist- that will change the rate of warming in my lifetime". This was echoed by the other members of the session who are optimistic that there will be an entire group of scientists and people who will understand how the data integrates together alongside the new developments in technology.
Rodrigo da Costa, Executive Director of EUSPA then presented a highlight lecture on 'Operational Products and Services'. He discussed the European Green Deal, including objectives to have climate neutrality and suppling clean energy. One key aspect is efficiency in agriculture, not just in terms of product, but in terms of sustainability. Rodrigo continued by discussing several reports including the EUSPA Market report, which identifies 17 market segments across the economy where space is a benefit and adds value.
To conclude the second day of GLOC a 'Generational Exchange on the Role of Space in the Fight against Climate Change' took place. A keynote speech from Clay Mowry, Chief Revenue Officer at Voyager Space Holdings, talked about the 3G international platform for space diversity: geography, gender, and generational. Variety of scholarships including bringing 12 students to the GLOC conference. To wrap up two panels took place. The general discussion focused on why its importation to include youth in discussions on climate. Lew Töpfer, German UN Youth Delegate to the General Assembly said "the decision we make now will impact us forever. We are the biggest youngest generation 1.8 billion people under 25 years old, discounting them in discussion would be strategically unwise".  The panel goes on to discuss the importance of youth driving change in the space industry, with Rune Floberghagen, Head of Science, Applications and Climate Department at ESA, emphasising that they bring a drive to get involved with outreach and digitalisation of data going forward.