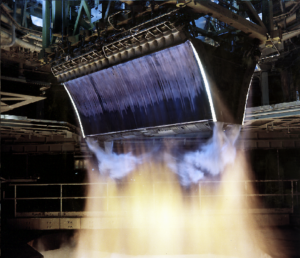 London, 26 April 2023.- POLARIS, a German aerospace start-up, announced on the 25th of April that they have been awarded a contract from BAAINBw (Federal Office of Bundeswehr Equipment, Information Technology and In-Service Support) to study the potential of a linear aerospike (LAS) rocket engine as a propulsion element in a spaceplane demonstrator. A LAS rocket engine will be ignited and tested in flight for the first time as part of the contract. 
LAS rocket engines enable major efficiency increases compared to conventional rocket engines. Dependent upon mission scenario, they could allow for higher payload mass, reduced vehicle take-off mass, and increased performance in terms of vehicle flight Mach number, flight altitude and flight range. 
One of the main technological challenges in LAS rocket engines is the engine cooling, which is significantly more challenging compared to conventional rocket engines. However, recent advances in 3D-printing have enabled new cooling concepts that were previously not feasible. 
Aerospike rocket engines can be beneficial for various classes of space launch and hypersonic vehicles, however, the unique geometry of LAS rocket engines makes them interesting for the flat-shaped spaceplane projected at POLARIS. LAS engines increase performance, allow for simpler engine integration into the spaceplane, reduce aerodynamic drag during turbine-powered cruise or re-entry gliding flight, and can solve potential tail-strike issues during take-off or landing. 
For the aerospike in-flight validation in the study, POLARIS will build a dedicated scaled spaceplane demonstrator, which will be larger and heavier than the three vehicles previously built and flown. This aerospike in-flight validation will form a major milestone on the roadmap towards an operational spaceplane.
With this new contract, POLARIS has received the third consecutive spaceplane-related Bundeswehr study contract with increasing complexity.