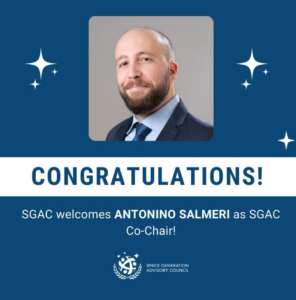 London, 6 April 2023.- The Space Generation Advisory Council (SGAC) has announced that Antonino Salmeri has been elected as the new Co-Chair for 2023. 
Dr Antonino Salmeri is a space lawyer who specialises in the governance of lunar and space resource activities. He holds four advanced degrees in law and currently works as Lead of the Lunar Policy Platform Initiative. Through this work, Dr Salmeri designs governance mechanisms for the cooperative, safe, and sustainable development of the Moon and its resources. Until now, he has served as a Policy and Advocacy Coordinator for SGAC.
"I am incredibly honoured to have been elected as Co-Chair of SGAC! There is no other organization like SGAC and I am fully determined to devote the best of my energies and skills to ensure its sustainable growth over the next two years," says Antonino Salmeri. "I am grateful to all those who supported my candidacy and I am excited to work alongside our members, sponsors and partners for the benefit of all space youth, present and future!"
Dr Salmeri will be taking over from Anthony Yuen who was elected as Co-Chair in 2021. Salmeri will be working with Hamza Hameed the other Co-Chair, a lawyer who Specialises in Space Affairs and Intergovernmental Relations.