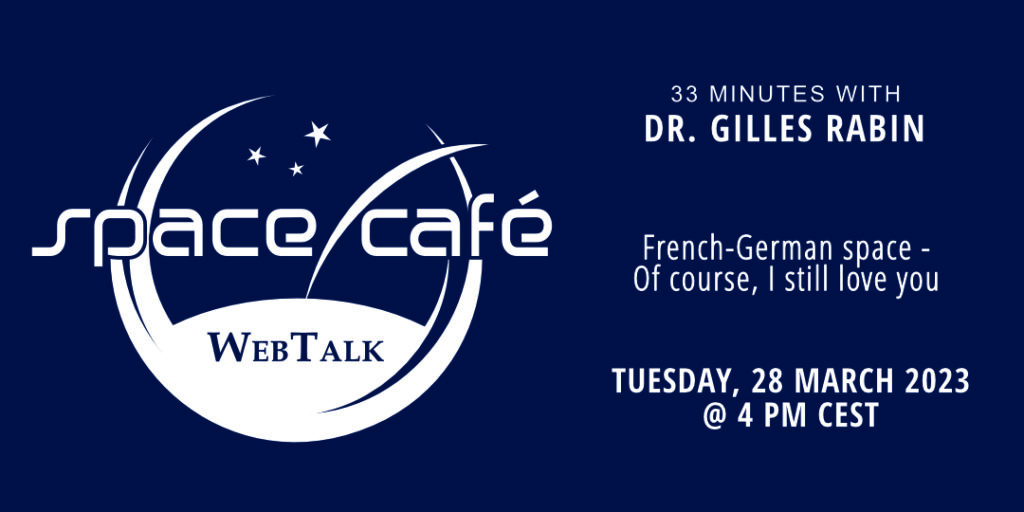 This Space Café WebTalk will feature Dr. Gilles Rabin, space advisor to the French Embassy in Berlin, in conversation with Torsten Kriening, publisher of SpaceWatch.Global.
"French-German Space – Of course, I still love you"
The failure of Vega C and the delay of Ariane 6 put Europe and the Franco-German couple in front of their responsibilities. Do we accept being dependent on our best friend, the USA, for access to space? Do we renounce the ambition to remain in Europe, a great space power? Will we be dependent on the USA for the economy of mobility, health, and the fight against global warming? Europe has the means to meet these challenges. More sovereignty and more competitiveness by putting our industrialists in competition. This ambition is possible, necessary, and indispensable.
Dr. Gilles Rabin is the space advisor to the French Embassy in Berlin, after having been Director of Innovation, Applications, and Science at CNES until the end of 2021. He holds a doctorate in economics and is a graduate of the French Press Institute Paris II Assas. He began his career as Director of the Transportation Department and Deputy Director of the Local Development Department at Bipe Conseil. In 1996, he became Deputy Director of the Nancy Urban Planning Agency. He continued his career as General Manager of the Essone Expansion Committee. He then became General Delegate for Economic Development and Land Policy at the Greater Lyon Urban Community in 2008 and then held the same position at the Nice Metropolis. From 2012 to 2014, Gilles Rabin was an advisor to the cabinet of the Minister of Economy, Productive Redress and Digital Economy in charge of decentralization, small and medium-sized enterprises, and business start-ups, transport, and health sectors. From 2015 to 2017, he was an Advisor in charge of innovation and research to the Secretary of State for Higher Education and Research, Thierry Mandon.
The audience will have an opportunity to ask questions in conversation with Dr. Gilles Rabin.
SpaceWatch.Global is a Europe-based digital magazine and portal for those interested in space and the far-reaching impact of the space sector.
This Space Café WebTalk will be conducted in English.
Reserve your place today.